One person was killed and more were injured Sunday afternoon when a school bus crashed at Denver International Airport.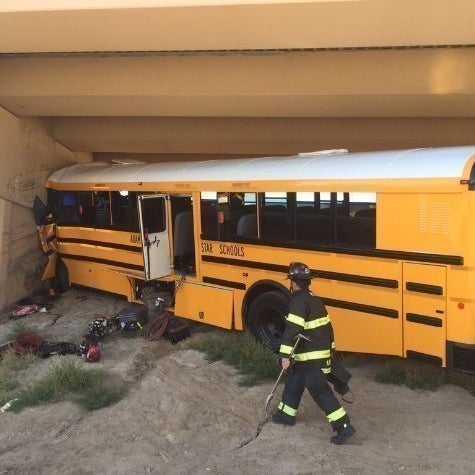 The cause of the crash was not immediately known, Denver police said. The female driver was pronounced dead Sunday at the scene, and at least 10 others were in hospitals for a variety of injuries.
Police told reporters the roughly 20 students and adults who had been on the bus were taken to local hospitals to be checked out. By Sunday night, two people were in critical condition, two in serious condition, and one in fair condition at Denver Health facilities. Twelve more were treated at other local hospitals Denver 7 reported.
By late Sunday, three adult staff members remained in the hospital, and many of the 15 students who were injured had been released to their parents, school district officials said. None of the students had been critically injured.
The bus was one of three that had arrived at the airport to pick up members of the Legacy High School football team as well as adults traveling with them. At the time the bus crashed, 28 students, the driver, and three other adults were on board, the Denver Post reported.
Legacy High School is in Broomfield, a suburb north of Denver. The football team was returning home after playing Chino Hills High School in California on Friday.
Police said the bus circled back around toward the passenger pick-up area after picking up the students and adults, the Denver Post reported.
Passenger pick-up on the eastern side of the airport was closed for hours after the crash. Airport officials thanked first responders as well as travelers for their patience.