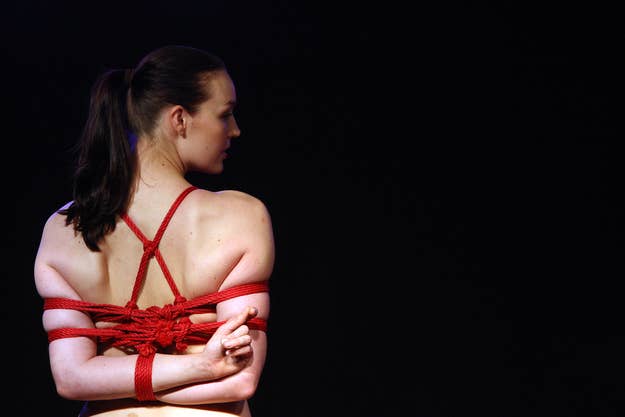 It's been quite a week for coverage of BDSM (bondage, discipline, dominance, submission, sadism, and masochism, for the uninitiated). Last Thursday, the New York Times ran a profile of the community, and on Monday, Slate's William Saletan weighed in with a piece called "The Trouble With Bondage." All this mainstream attention left me feeling a little testy about journalists and writers who highlight the most shocking things about BDSM without any context.
The Times profile was decent — except for the part which led to my dad calling me and demanding to know whether I've ever been set on fire, like one woman in the article. Dear Dad and the rest of the world: Setting people on fire is extremely rare in BDSM. It's widely considered a form of "edge play" — a term for BDSM activities that most BDSMers have zero interest in, and that are best handled with extreme care. (I have no problem with extreme activities as long as they're consensual, but I have a big problem with extreme activities being portrayed as careless and typical.) If someone you love is kinky, it is very unlikely that they are running about willy-nilly with matches. Most people who do BDSM are mostly interested in ropes, some hair-pulling — maybe a few toys such as whips, which they can learn to use by reading one of the plentiful BDSM safety manuals or attending one of the 10 million BDSM safety classes available in any major city. (Google one!) Because the BDSM community is pretty freakin' concerned with safety.
My testiness flared into full-blown annoyance when I saw the Slate article that informed us BDSM is deeply perilous, and that those of us who practice BDSM are utterly unaware of its dangers. Author William Saletan claims to have done research, but he actually linked mostly to tabloid articles and mainstream coverage, with one or two links to extremely high-profile BDSM sites tossed in.
I might be forgiving if I thought Saletan genuinely cared about our safety. Because — as you can tell by the fact that the BDSM community keeps giving classes and writing books about safety — safety is a genuine concern that is worth addressing! But if he did, then he would have linked to one of the safety books that he claims to have read. Just one! He didn't link to any. (He did link to one fictional BDSM portrayal: Fifty Shades Of Grey, of course. Despite the fact that many writers have criticized its depiction of BDSM as inaccurate.)
I'm not sure what Saletan's agenda is, because I couldn't identify his point even after reading the article twice. But I'll take a guess based on his final lines: "If you can't accept consensual domestic violence as just another lifestyle choice, that doesn't make you a prude. It makes you perfectly normal." I don't know who called him a prude — it wasn't me, and it wasn't the vast majority of the BDSM community, and I highly doubt that it was anyone in the (few) articles that he linked. But those lines show that being called a prude may be what he's scared of.
With that in mind, I'm going to describe some actual problems with the BDSM community and the coverage of it:
First, some reporters who cover the BDSM community — and some BDSMers — like to talk as if BDSM is some kind of extra-special "advanced sex," and anyone who doesn't like it is stuck-up. I find this approach extremely distasteful, and so do many other BDSMers. Honestly, if you're not into it, it's cool. No, honestly. And if anyone ever tells you differently, send them to me; I'll gladly explain slowly that their bad behavior is alienating people from our community. Or just have them read this article! That would be a favor, and I would thank you for it.
But another favor you could do me would be to not assume that BDSMers think you're a prude. It's fine with me if you want to feel "normal," my friend. (Whatever "normal" means.) Just don't dump on my community to do it.
Second, there is danger and sometimes abuse in the BDSM community, the same way there is abuse in all communities. But that goes for any group where power and status are involved. Yet Saletan isn't calling for the abolition of government. Or sports teams. Or the Catholic priesthood.
He is also not bothering to examine any of the in-depth discussion about abuse in the community among actual community members. It's out there. And it's not OK to attack a community for containing abuse and simultaneously ignore the people within it who are working against abuse.
Look, I'm the first to admit that the BDSM community has problems that should be addressed, and that BDSM, as an activity, can get really complicated and even problematic. I've got countless articles and even a book on the topic. But if the goal is to make a real and positive impact on BDSMers, then these kinds of critiques have to be rooted in a genuine understanding of the community rather than a few items cherry-picked off the top.
Clarisse Thorn is a feminist BDSM writer with an astonishing Twitter feed. She wrote a great book about pickup artists, and you can also pick up her awesome collection The S&M Feminist.