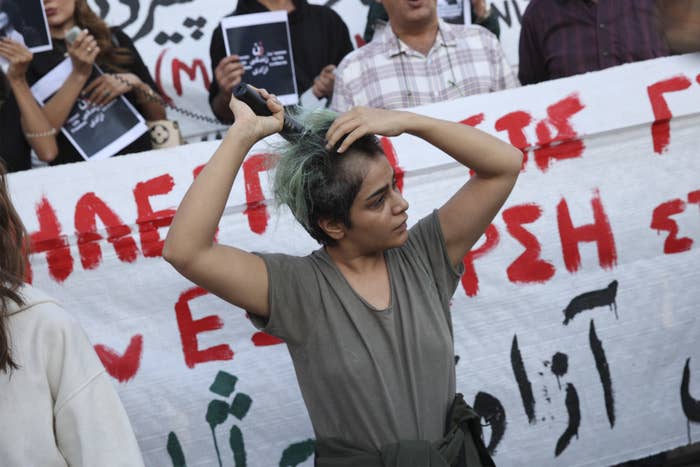 In the week since Mahsa Amini, a 22-year-old Iranian Kurdish woman, died in police custody in Tehran, Pegah has watched the protests in her home country with awe, hope, fear, and a tinge of shame.
Pegah, 39, who did not want to share her last name because of fear for her family members traveling to Iran, has seen the videos of women cutting their hair and burning their hijabs in public. She has seen large crowds call for the "death of the dictator" and has watched her fellow Iranians risk their lives to confront armed security forces.
"I'm very ashamed of myself for not being there. At the same time, I find it very courageous, and I don't think I would have the courage to do that," she told BuzzFeed News.
When she heard that Amini (who also went by her Kurdish name, "Jina") died after being arrested by the morality police for wearing a headscarf "improperly," Pegah, who left Iran for Edmonton, Alberta, when she was 23, was shocked. Authorities said that Amini died after she had a heart attack and fell into a coma, and denied that she was beaten while in custody. The police account of her death has been widely rejected by her family and the public.
For Pegah, Amini's death and the circumstances around it brought back the trauma of her own encounters with the morality police, who are tasked with enforcing Islamic dress codes and morals and often target women. Pegah said she was stopped twice by the morality police while out with her brother in Tehran, and they were questioned separately to determine whether they were out in public as an unmarried couple.
"Everybody remembers their negative interactions with the morality police — which there's nothing moral about, by the way," she said.
Pegah also pointed to what happened to Sepideh Rashno, a 28-year-old woman arrested in July for not wearing a hijab, who then appeared on state-run TV, pale and bruised, to publicly apologize. Activists and human rights groups have said it was a "forced confession."
Incidents like that have confirmed Pegah and her family's belief that it was too dangerous for her to stay.
"I left in a very sad situation knowing that it will come to this. I anticipated the day when they will openly kill people," she said. "I knew the day would come. That's why I left."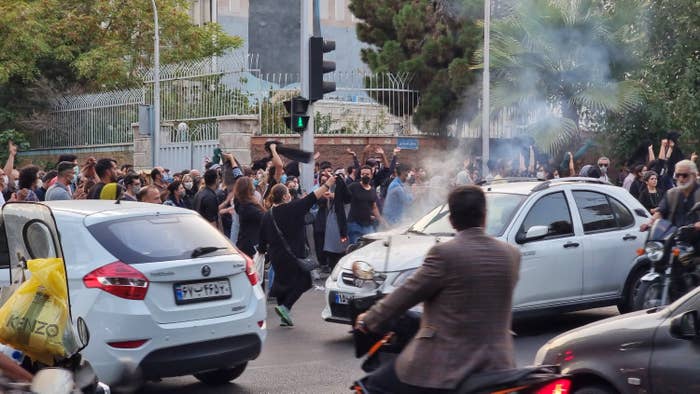 Iranians have come under greater restrictions and policing since President Ebrahim Raisi's election in August 2021. In the past week, the anger over Amini's death has transformed into wider outrage at the regime.
Tara, a 23-year-old whose parents moved to Germany from Iran before the 1979 revolution, said she felt "sorrow" at Amini's death, but she wasn't surprised. (To protect her privacy, she did not want her last name included.)
"The Iranian government holds its power on the people through fear, compulsion, and restrictions, whether it's compulsory hijab or the restriction of ethnic minority names," Tara said, pointing to Amini's Kurdish name. The Iranian government has a list of approved names that families are allowed to use, under the guise that banned names like "Jina" — which are often ethnic minority names — could divide the country.
Tara, who now lives in Greece advocating for refugees, asylum-seekers, and migrants, said that the issue lies with how the Iranian government uses religion as a tool of oppression.
"Hijab is not the problem; the religion of Islam is not the problem. The problems are, to name a few, compulsion, corruption, patriarchy, and a regime that's willing to kill its own people, its own youth, before they even have the chance to live," she said.
It's not just that the government systematically crushes any sign of opposition, Pegah said. The regime has also fumbled its handling of crises like the coronavirus pandemic, during which more than 144,000 people in Iran have died, according to official numbers. In January 2021, Ayatollah Ali Khamenei, Iran's supreme leader, banned UK- and US-made vaccines, calling them "completely untrustworthy." He had also previously floated a conspiracy theory about the coronavirus, saying it was "specifically built for Iran using the genetic data of Iranians, which they have obtained through different means."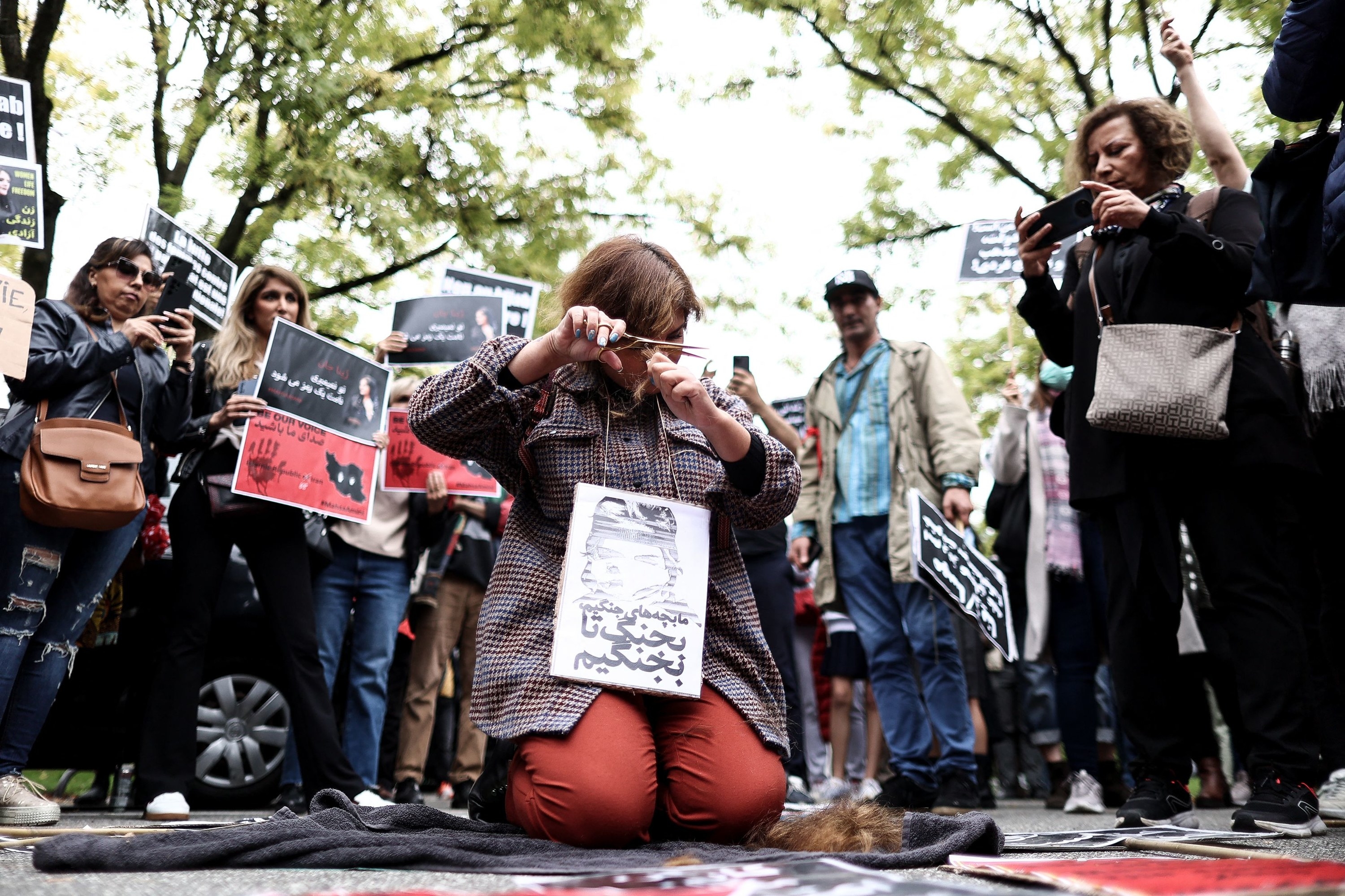 The weeklong protests are the biggest that Iran has seen in years. The Iranian diaspora has also protested Amini's death and the regime in cities around the world, from Istanbul to Washington, DC, Copenhagen, and Santiago, Chile.
Tara said the women publicly defying the compulsory hijab laws in Iran are especially inspiring, but she fears for the protesters.
"I wish I had an ounce of their bravery and courage," she said. "At the same time, if I am honest, it's extremely scary. Multiple women have been killed by Iranian authorities in these protests — a lot of young men as well. Nobody should have to live with such fear."
Security forces have cracked down violently in Iran. While it's unclear exactly how many people have died so far, Amnesty International said Saturday morning that at least 30 people have been killed, including four children. A state broadcaster put the death toll at 41, Reuters reported. Access to the internet has also been heavily restricted, and platforms like WhatsApp, Instagram, Skype, and LinkedIn are down, according to NetBlocks, which tracks network restrictions.
Raisi has dismissed the protests as "riots" and warned protesters that "acts of chaos" were unacceptable. He said the government must "deal decisively with those who oppose the country's security and tranquility."
In response to the violence against protesters, the EU issued a statement Sunday, saying, "The widespread and disproportionate use of force against nonviolent protestors is unjustifiable and unacceptable."
Pegah, who has been going to rallies in Edmonton supporting the protests, said she admired the bravery of the people back home.
"I feel like it's gotten to a point that if they're not brave, they're gonna get killed no matter what," she said. "How can you do anything else but to protest and burn the scarves and stand in front of the police?"