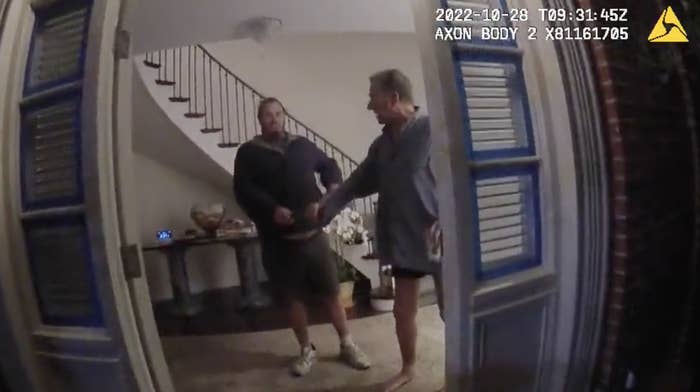 Footage of the violent attack on Rep. Nancy Pelosi's husband at the couple's San Francisco home has been released, showing the moment Paul Pelosi opened the door and was attacked by an assailant with a hammer.
The police body camera video, released on Friday by the San Francisco County Superior Court, shows Paul Pelosi and his alleged attacker, David DePape, standing at the door when it opens, both holding onto a hammer.
"Everything's good," DePape tells the officers.
When they tell him to drop the hammer, he replies, "um, nope," and begins to struggle over the weapon with Paul Pelosi before snatching it from him and hitting him on the head. The officers then rush into the house and tackle DePape onto the floor.
Paul Pelosi, 82, underwent surgery to repair a skull fracture and "serious injuries" to his right arm and hands sustained during the attack.
Warning: The footage below is graphic.
Authorities said DePape, 42, entered the bedroom when Paul Pelosi was sleeping and "stated that he wanted to talk to 'Nancy.'" (The former House speaker was in Washington, DC, at the time.) When told that she was not at home, DePape allegedly said that "he would sit and wait" for her.
Paul Pelosi called 911 from the bathroom to report that there was a man he did not know in the house who wanted to wait for his wife to return. According to 911 audio released, he told the dispatcher that he had to end the call because DePape wanted him to hang up.
DePape faces state and federal charges over the attack. The San Francisco district attorney has charged him with attempted murder, assault with a deadly weapon, elderly abuse, false imprisonment of an elder, threats to a public official and their family, and residential burglary. The state charges carry 13 years to life in prison.
Federal prosecutors have also charged him with assault of an immediate family member of a US official with the intent to retaliate against the official on account of the performance of official duties and attempted kidnapping of a US official on account of the performance of official duties. He faces up to 50 years in prison for federal charges.
The attack, which took place days before the 2022 midterm elections, drew conspiracy theories from conservative figures who falsely claimed that it was staged.
The DA's office had declined news organizations' request to release video of the incident, and requested that the court block its release, saying it would open it up to manipulation and the spread of false information. DePape's attorney, Adam Lipson, also argued that releasing the video could prevent a fair trial for his client and inflame conspiracy theories about the case.
Judge Stephen M. Murphy ultimately denied the request as the footage had been played at a preliminary hearing for DePape in December.