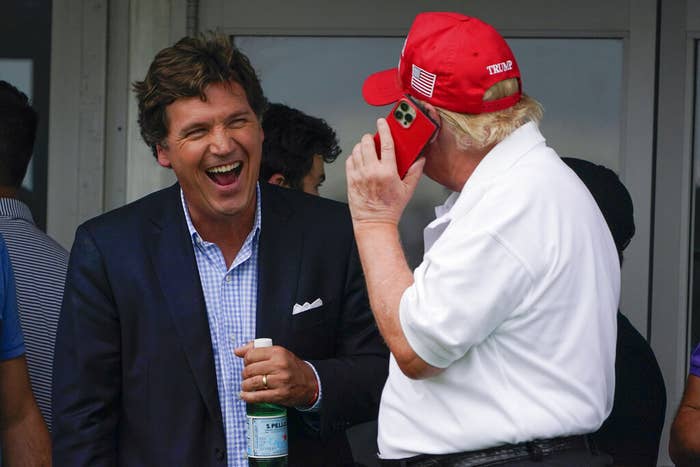 A cache of spicy text messages released Tuesday as part of a defamation lawsuit revealed that Fox News host Tucker Carlson, who acted as an on-air shill for former president Donald Trump's agenda for years, was, in fact, disdainful of him and looking forward to the end of his term.
"I hate him passionately," Carlson wrote in a text on Jan. 4, 2021, weeks before the end of Trump's term.
The release of the text messages is part of Dominion Voting Systems' $1.6 billion defamation lawsuit against Fox News. Dominion alleges that the network pushed conspiracy theories about the election tech company and "recklessly disregarded the truth" in a bid to advance Trump's lies about voter fraud in the 2020 election.
The text messages were released along with a slew of damning details about conversations the network's hosts and top executives had about their election coverage. Internally, some cast doubt on the very election fraud claims that they were pushing on TV.
In texts to a colleague, Carlson, who has repeatedly platformed Trump's policies and false claims on his popular show, expressed his eagerness for the president's term to end.
"We are very, very close to being able to ignore Trump most nights," he wrote. "I truly can't wait."
He also lamented the failures of the Trump presidency.
"That's the last four years. We're all pretending we've got a lot to show for it, because admitting what a disaster it's been is too tough to digest," Carlson wrote. "But come on. There really isn't an upside to Trump."
After the Jan. 6 insurrection, Carlson appeared to be counting down the days until Trump would leave office.
"Trump has two weeks left. Once he's out, he becomes incalculably less powerful, even in the minds of his supporters," he wrote.
Text messages also show Fox News hosts disparaging Trump's attorneys. Carlson said Trump, along with lawyers Lin Wood and Sidney Powell, had "so discredited their own [voter fraud] case, and the rest of us to some extent, that it's infuriating."
Host Laura Ingraham also insulted Rudy Giuliani, Trump's personal attorney who spearheaded the campaign to claim election fraud.
Ingraham wrote to Carlson that Giuliani "embarrassed the President" in court over the Trump campaign's election denial lawsuits. She also called Powell "a complete nut."
The documents reveal close ties between the network's executives — including parent company News Corp owner Rupert Murdoch — and Trump's team.
As Trump and his allies began running with false claims of widespread voter fraud, Murdoch privately wondered if hosts Ingraham and Sean Hannity "went too far" in covering them.
In a statement, Fox News accused Dominion of using "distortions and misinformation" to "smear" the network, and that the quotes in the documents were twisted and misattributed.
Trump has so far remained silent on Carlson's texts.