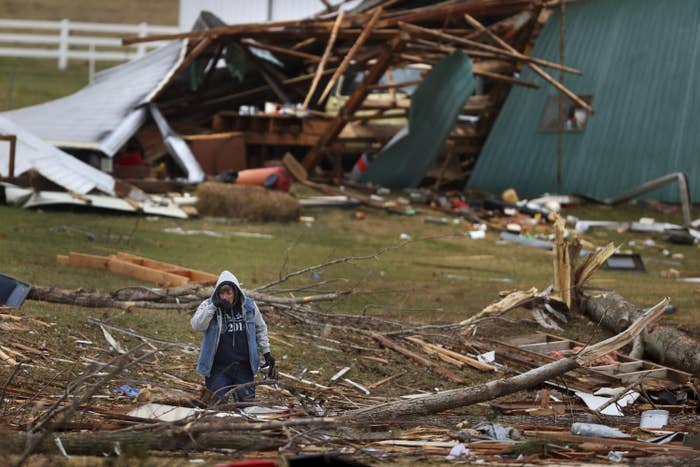 More than 100 people may have died in Kentucky after multiple tornadoes tore through the state overnight, causing damage in more than a dozen counties and destroying entire towns, the governor said.
"The devastation is unlike anything I have seen in my life, and I have trouble putting it into words," Gov. Andy Beshear said in a press conference Saturday afternoon.
Beshear, who has declared a state of emergency and activated the National Guard, said that he believed more than 100 people were killed and the death toll may "rise significantly."

Tornadoes also lashed Arkansas, Illinois, Mississippi, Missouri, and Tennessee, killing several people, wrecking buildings, and causing hundreds of thousands of people to lose power.
Photos show horrific scenes of destruction, with buildings reduced to rubble and entire structures flattened.

"We have half of some of our towns here in western Kentucky that are just gone," Beshear told CNN.

In Mayfield, Kentucky, a tornado caused a candle factory to collapse. Beshear said that about 110 people were in the building at the time and he believes at least dozens of them died. Kentucky Rep. James Comer told CNN that the factory was one of the largest employers in Mayfield and it was at its busiest this time of year because of the holiday season.
Kyanna Parsons-Perez, one of the employees, went live on Facebook after the collapse, and her coworkers could be heard in the background shouting for help and crying.
"I was at my job, we got hit by a tornado, and we are trapped in the wall and waiting for the people to come get us," she said in the video.

In an interview with Today, Parsons-Perez said she was trapped for two hours under about 5 feet of debris.
"They had us in the area where you go in case there's a storm, and we were all there. Then the lights got to flickering, and then all of a sudden ... we could feel the wind. Then my ears kind of started popping, you know, as they would as if you're on a plane," she said. "And then you did like a little rock, this way and this way. And then, boom, everything came down on us. All you heard was screams."
Officials said nobody had been rescued from the rubble of the factory since 3 a.m.
In Edwardsville, Illinois, an Amazon warehouse collapsed, killing at least two people, officials said.

A nursing home in Monette, Arkansas, was also hit by a tornado, killing one person and seriously injuring five others, according to Craighead County Judge Marvin Day. Arkansas Gov. Asa Hutchinson, who toured the wreckage of the nursing home Saturday, told reporters that another person died after a tornado swept a Dollar General store in the state.
"Probably the most remarkable thing is that there's not a greater loss of life," Hutchinson said. "It is catastrophic. It's a total destruction."
In Tennessee, three people were killed, according to the Tennessee Emergency Management Agency — two in Lake County and one in Obion County.
Speaking Saturday afternoon, President Joe Biden said his staff were in touch with local leaders in states affected by the tornadoes. He had earlier approved Kentucky's emergency declaration, authorizing the Federal Emergency Management Agency and the Department of Homeland Security to coordinate disaster relief efforts.
"We still don't know how many lives are lost and the full extent of the damage," Biden said. "I want to emphasize what I told all the governors: The federal government will do everything — everything it can possibly do — to help."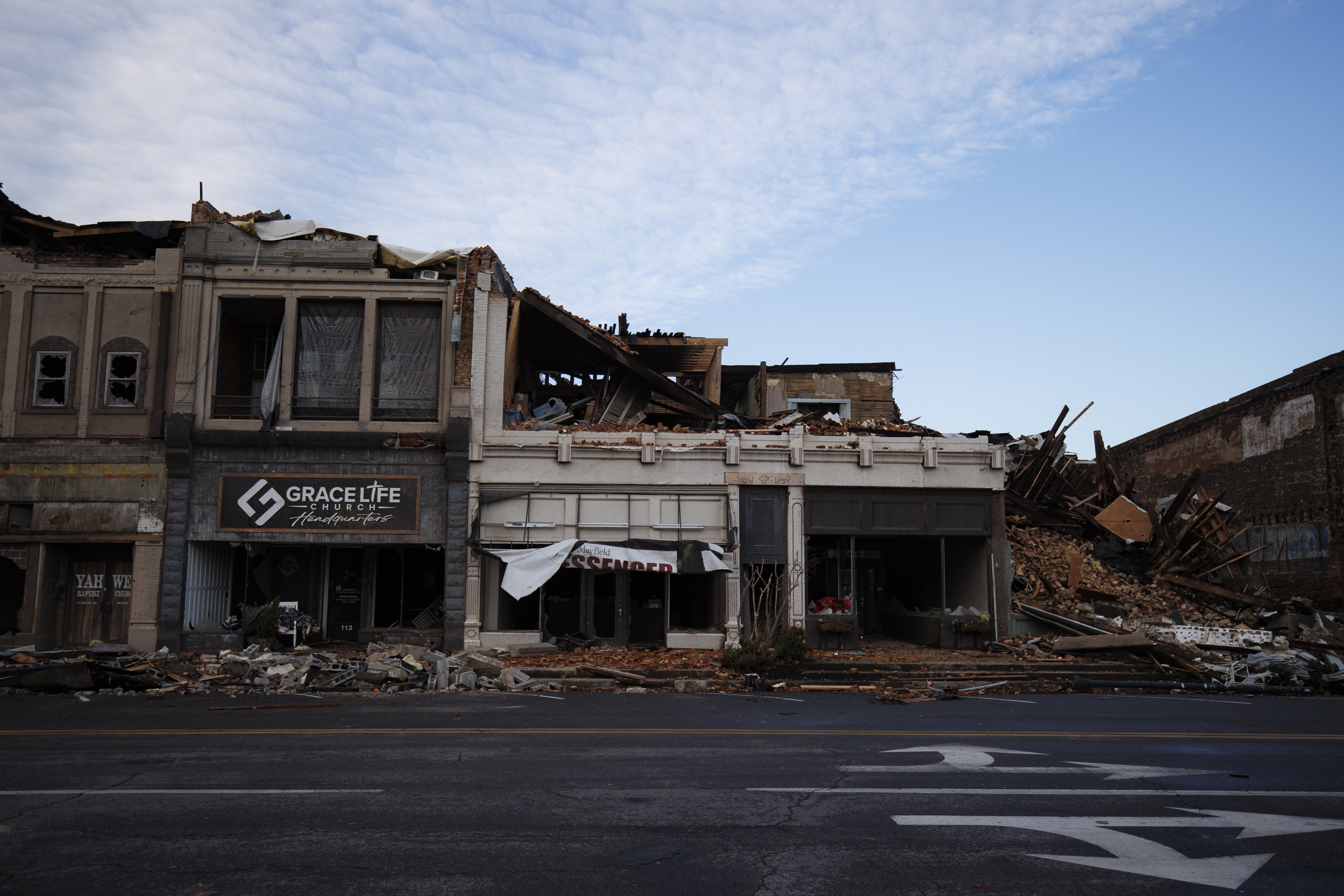 On Thursday, the National Weather Service had forecast storms brewing Friday evening, noting that "odds are highest for a strong tornado or two" in Kentucky. Around dusk Central Time on Friday, the NWS warned about a "significant severe weather outbreak" and stressed the heightened danger from tornadoes hitting when people are at home asleep.

Even so, what happened over the next few hours was described in Forbes by Marshall Shepherd of the University of Georgia, a former president of the American Meteorological Society, as two more "worst-case scenarios" on top of the elevated nighttime threat.
As storms pushed through the southern-central and central US, they spawned multiple tornadoes, at least one of which stayed on the ground over an unusually long time and distance.
The worst destruction tracked from Arkansas through parts of Missouri and Tennessee to Kentucky, over a distance of what Beshear said was 227 miles, "which we believe is likely the longest in US history."
A second series of tornadoes tracked from Missouri into Illinois.
Because the storms that generate tornadoes are driven by warm rising air, December is usually a quiet month. But tornadoes can strike anytime of year, and Friday was warm across the South, with temperatures into the 70s Fahrenheit.
When asked if climate change played a role in the devastating weather events, Biden said he was not sure of its exact impact on these series of tornadoes. But, he said, "We all know everything is more intense when the climate is warming. Everything. And obviously it has some impact here."