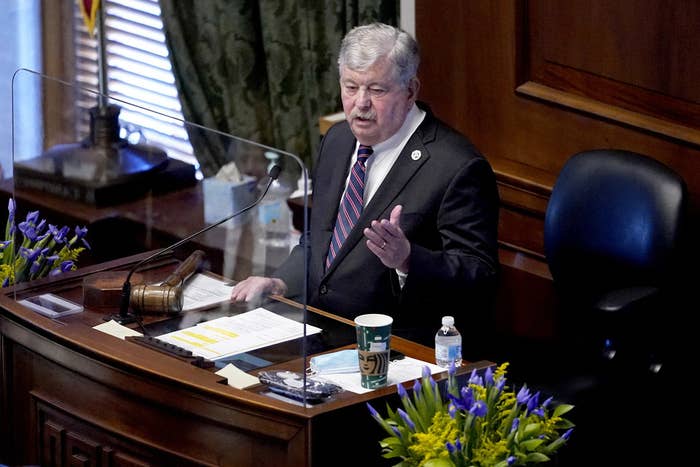 Tennessee's lieutenant governor is taking a break from social media after weeks of scrutiny over his comments on a young gay man's racy Instagram photos.
In a statement shared with BuzzFeed News, Lt. Gov. Randy McNally said he has "made a point to engage with people" on social media, and that his comments on 20-year-old Franklyn McClur's photos and videos were "no different."
"While I see now that I should have been more careful about how my comments and activity would be perceived, my intent was always engagement and encouragement," the 79-year-old lawmaker said. "I apologize for any embarrassment my postings have caused my family, friends and colleagues. For this reason, I will be pausing my social media activity in order to reflect and receive more guidance on the use of social media."
McNally had been commenting on McClur's risqué Instagram posts for several months before the Tennessee Holler first reported on it in early March. In one comment, McNally posted a heart emoji in response to a photo of a nearly nude McClur, and wrote "Finn, you can turn a rainy day into rainbows and sunshine!" on a close-up photo of McClur's butt.
McNally's spokesperson, Adam Kleinheider, said at the time that those comments were not inappropriate and suggested that the lieutenant governor was very online but simply not well-versed in emojis.
"Trying to imply something sinister or inappropriate about a great-grandfather's use of social media says more about the mind of the left-wing operative making the implication than it does about Randy McNally. As anyone in Tennessee politics knows, Lt. Governor McNally is a prolific social media commenter. He takes great pains to view every post he can and frequently posts encouraging things to many of his followers," Kleinheider said.
"Does he always use the proper emoji at the proper time? Maybe not. But he enjoys interacting with constituents and Tennesseans of all religions, backgrounds and orientations on social media," he added. "He has no intention of stopping."
McClur previously told BuzzFeed News that McNally started DMing him on Instagram in 2020 after they became Facebook friends. At the time, McClur was "openly a Christian" and not posting suggestive photos.
McNally's statement about his social media use asserted that he was not against gay people.
"I am 79 years old, and was raised in a time when homosexuality was deeply shameful. And I absolutely still hold traditional Tennessee values dear," he said. "But I now have friends and even a relative who is gay."
Being conservative and anti-gay "are not synonymous," McNally added, though he also said he tried to "understand this community better, and at the same time not compromise trying to protect children and my own values."
The lieutenant governor's comments on McNally's posts came to light just days after legislation banning drag performances in public was signed into law in Tennessee, as part of a sustained campaign by conservatives to target drag performers and trans people. Another law restricting gender-affirming care for trans youth will go into effect in July.
McNally was presiding over the state Senate as speaker when both bills were passed.