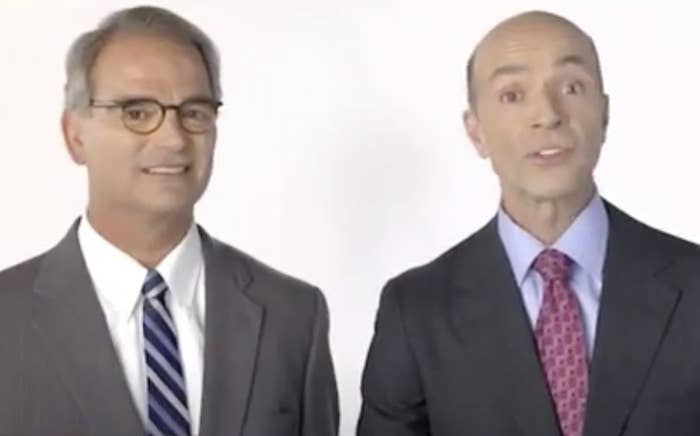 Personal injury attorney Stephen Barnes and his niece Elizabeth Barnes died in a plane crash in Genesee County, New York, on Friday, his former law partner Ross Cellino said in a statement.

Cellino — who with Barnes founded the famed New York law firm Cellino & Barnes, which became iconic across the region for its catchy jingle and prominent billboards — confirmed the identity of the victims.
Barnes, a registered pilot, was flying with his niece in a small airplane heading from Manchester, New Hampshire, to Buffalo, New York, when the plane crashed close to its destination.
The plane was registered to a company that shares an address with Cellino & Barnes, the Associated Press reported.
Genesee County Sheriff William Sheron told reporters that the plane was "pretty much disintegrated" and there was "not much left" of the wreckage.
"Right now, there's no bodies to be recovered," Sheron said.
Law enforcement did not identify the victims, only saying that a man and woman were on board and there were no survivors.
Cellino said in his statement Friday that he had learned of Barnes' and his niece's deaths in the crash.
"Steve and I worked together for many years at our firm. He was always a fearless advocate for his clients. His passing is a significant loss for the legal community," Cellino said. "Equally heartbreaking is the passing of Elizabeth Barnes, sister of Brian Barnes and daughter of Rich Barnes, Steve's brother and an attorney at our firm."
The Barnes Firm, which Barnes started after splitting from his company with Cellino, mourned its founder's death in a statement to BuzzFeed News.
"Steve was a friend, colleague, partner, and mentor to so many people across our firm, in New York, California, and beyond," the firm said. "He was a legal industry giant, proud Marine, and loving father. Steve and Elizabeth will be sorely missed by many."
Barnes is survived by his three children and his longtime partner, Ellen Sturm, who Cellino said is also an attorney at their firm.
Barnes' ex-wife Ruth Barnes told the Buffalo News that his death was "totally devastating" for her and their children.
"They were all very close to their father and they are devastated," she said.
Cellino & Barnes was a New York firm with offices around the state. Its catchy commercials and striking billboards that prominently featured both men's faces helped elevate the firm into a New York institution.

Neither the law firm, which is in the process of separating, nor Cellino's attorney Terry Connors immediately responded to requests for comment.
The partners were engaged in a bitter legal battle beginning in 2017 over the fate of their firm that revealed deep personal and professional acrimony among the two. The lawsuit dragged on for three years, and they finally split up this summer to form two separate firms: Cellino Law and the Barnes Firm.