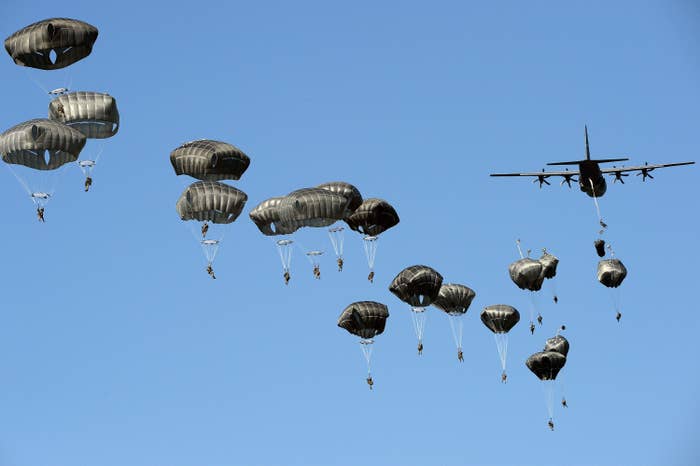 A number of soldiers were injured when a strong gust of wind blew them into trees during an airborne operation in Mississippi on Wednesday evening.
The 650 Army troops from a brigade based in Alaska were participating in the jump at Camp Shelby Joint Forces Training Center, according to a Facebook post from their brigade. It was the beginning of a 10-day military training exercise. Eighty-seven paratroopers got stuck in the trees, according to a Facebook post from the battalion.
Officials said 23 jumpers sustained injuries from the accident, but none were life-threatening. Staff Sgt. Scott Tynes of the Mississippi Army National Guard told BuzzFeed News seven of them were sent to the hospital, and the rest received treatment from first responders who were on standby at the scene, he added.
As of Thursday afternoon, four of the injured were still being cared for at the hospital, Camp Shelby Cmdr. Col. Bobby Ginn said during a press conference.
Ginn told WDAM that soldiers jumped out of the plane and strong winds blew some of them away from their drop zone and into the trees, but officials said the exact cause of the incident is still under investigation.
"Injuries on jumps are fairly commonplace to have this number is relatively rare," Col. Christopher Landers, commander of the Alaska-based brigade told reporters Thursday. "In my career, I've seen it about a half a dozen times where this many jumpers end up in the trees and each time it's a different causation."
Landers said the soldiers ended up approximately 200 to 400 yards away from the intended landing point.
According to a statement from Lt. Col. Matthew Myer, all 87 soldiers who were trapped in the trees had been rescued by 10 a.m. local time.

"We had a few jumpers remaining that were so high in the trees that they required significant recovery support," Myer said.
Those who received medical treatment are expected to recover, including one soldier who underwent surgery for a broken back.
In a statement about the incident, Tynes noted the "inherent risk" in any airborne operation. He said that the hospital was alerted before the jump that there may be an influx of patients coming its way, and what sorts of injuries the first responders should expect to treat.
The brigade said in its statement that soldiers will resume their training eventually.

"Despite the challenges that we currently face, soldiers always place the mission first," Cpt. Ashley Bain Sangster said.