SANTA CLARITA, California — Two students were killed and several others were injured in a shooting at Saugus High School in Santa Clarita, California, on Thursday, authorities said.
The suspect, who was initially described as being 15, is a 16-year-old boy who shot five fellow students with a .45-caliber semiautomatic pistol, Los Angeles County Sheriff's Capt. Kent Wegener said at a news conference.
The shooter pulled the gun from his backpack, shot five people, and then shot himself in the head, Wegener added. There were no more bullets in the weapon when police retrieved it.
According to authorities, a 16-year-old girl and 14-year-old boy died. Another student is in critical condition. The shooter, who was identified as Nathaniel Berhow, died Friday afternoon while being treated at the hospital.
Wegener told reporters that detectives were with the shooter's mother and girlfriend.

Deputies had also surrounded a home not far from the school that public records show belongs to his mother.
Berhow was a sophomore at the high school, and authorities said Thursday was his 16th birthday.
The shooting began before classes started, with authorities starting to get calls about shots fired at 7:38 a.m., Los Angeles County Sheriff Alex Villanueva said.

Saugus High students described a scene of chaos as gunshots rang out. Helen Rieckhoff, a 15-year-old sophomore, was in the quad when the shooting broke out.

"I first heard one shot and then everybody went dead silent," Rieckhoff told BuzzFeed News, adding that, at that time of day, the quad is usually full of students hanging out.
"It got really quiet and then we heard three more shots in a row," she said. "It was just a giant bang. It echoed."
She started running around by the time the third shot rang out. The first classroom door she tried was locked, but she and her friends quickly found another room farther away and ran inside.
They locked the doors, turned out the lights, pulled down the blinds, and waited.
"We all stood there — there was a lot of heavy breathing and silent crying," she said.
Megan Puettmann, the editor of the school yearbook, posted photos of the aftermath on Twitter, saying she was devastated by the experience.
Sona Tigranyan, a Saugus High senior, told BuzzFeed News she was on her way to school when her friends texted her that they had heard gunshots.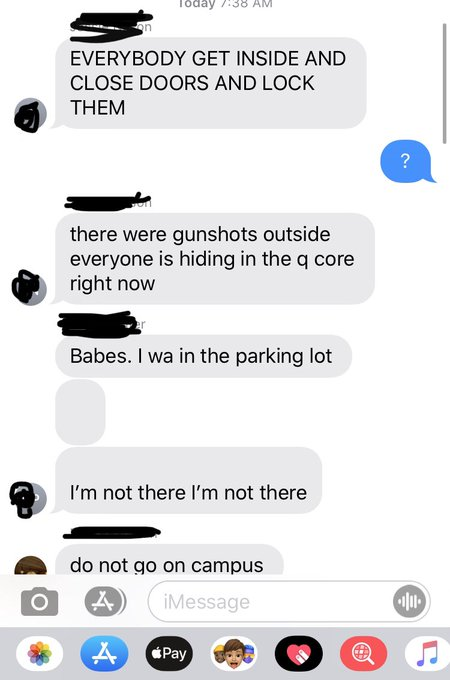 "It's a shock, mainly," Tigranyan said. "You never think it's gonna happen to you."

Tigranyan said she's involved in her school's theater program, and they were supposed to have a show Thursday night — a production of Shakespeare in Love — that she now expects will be canceled.
"I feel like a statistic now," Tigranyan said. "You see this all happening and you see nothing ever happens. You just become another tragedy — it's what you'll always be remembered for."
Multiple officials at the news conference spoke of the close-knit nature of the Santa Clarita community. LA County Fire Chief Daryl Osby said several members of the fire department have children who are currently attending Saugus High.

"We are a close-knit, family-oriented community," Santa Clarita Mayor Marsha McLean told reporters. "I have a granddaughter who was at Saugus High School this morning. When I heard about it, the feeling that went over me was indescribable."
"I hate to have Saugus be added to the names of Columbine, Parkland, Sandy Hook, but it's a reality that affects us all across the nation," Villanueva added.
President Trump tweeted that the White House was monitoring the investigation, and expressed his "deepest condolences to the families and friends of those tragically lost."
FBI Assistant Director in Charge Paul Delacourt added that they have "no idea of motivation or ideology" of the suspect at this time. There were two recent threats involving Saugus High School that police had investigated, Wegener, the sheriff's captain, said, but neither was connected to Thursday's shooting.
Racquel Turner was anxiously waiting at Central Park to pick up her 16-year-old son, one of three of her kids who were at the school when the shooting started.

Turner, who is also a track coach at the school, was home when she got a frantic call from one of her daughters.
"She was screaming, 'There's a shooter, there's a shooter, I see people on the ground,'" Turner said. "I told her to just drop her stuff and run."
She said her daughter was in the quad when the shooting happened.
"I was telling her to run, just to jump the fence and go," Turner said.
Keri Arevalo told BuzzFeed News her 16-year-old son and his classmates locked themselves in a prop room when the shooting broke out.
"I kept asking him, 'Are you OK?' He just kept saying, 'I'm fine, I'm fine,'" Arevalo said as she waited to meet him at Central Park.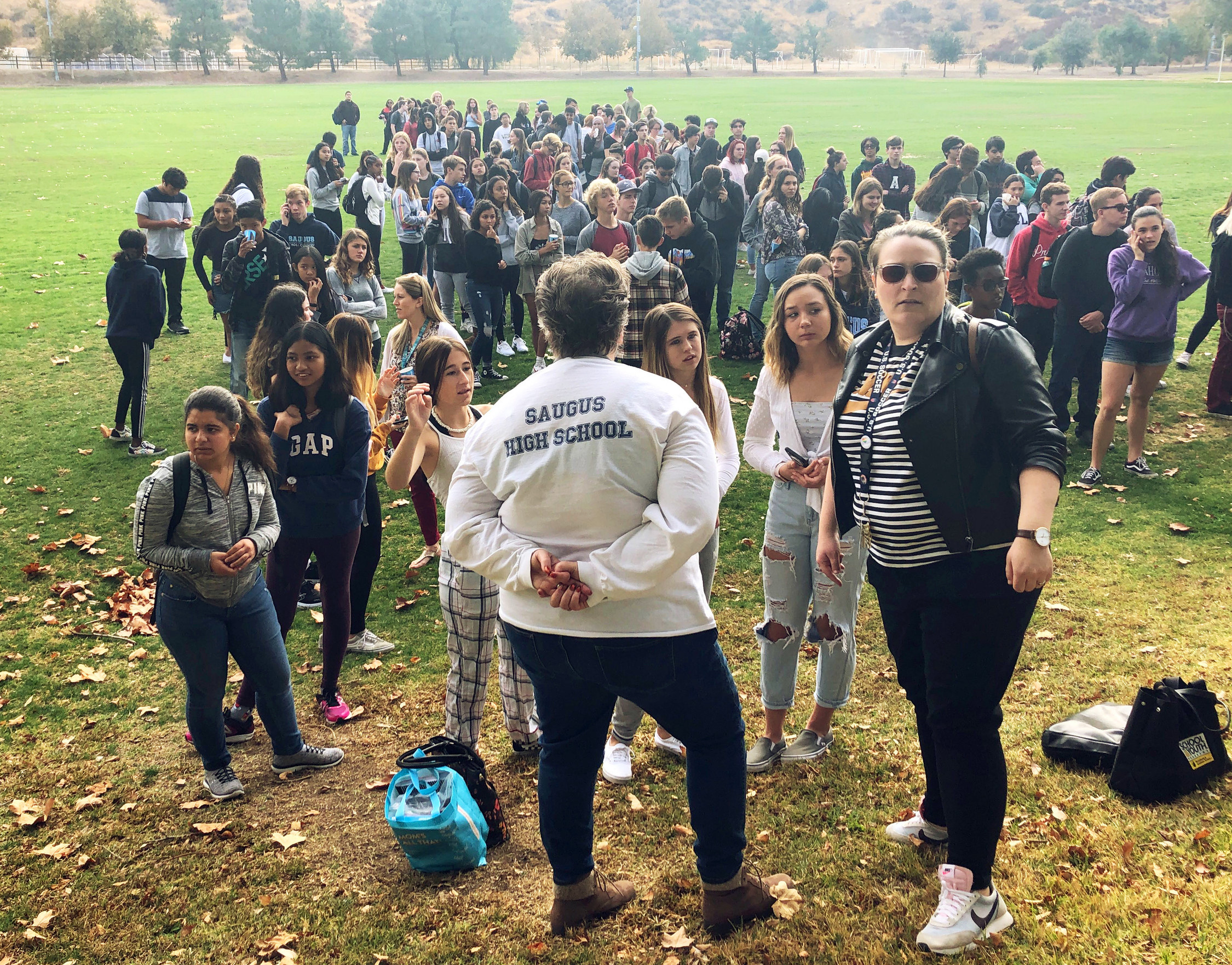 Michael Yoo, a 17-year-old senior, was in the band room when the shooting broke out. He said he didn't hear any gunshots, and it was only when a girl came running into the room, crying, that he realized something was going on.
"She said it was a shooter," Yoo told BuzzFeed News.
He and his classmates locked the doors and filed into the music library within the band room and locked that door.
"I was freaking out, I was calling my mom, I was telling my family," Yoo said.
As he waited in the cramped music library with his friends, Yoo said he worried a lot about his future.
"I've worked so hard at this point," he said. "I'm so close to [graduating]."
Brooklyn Moreno, a sophomore at the school, told ABC7 she was waiting for the first bell to ring when she heard the first gunshot.
"I was in shock, I didn't even process it yet. I just started running because everyone else was," she said. "There were girls falling in front of me, I was trying to help them up. ... I didn't want to get hurt either."
Many students left their phones and bags at school, Moreno said: They "just dropped everything."
Correction: Racquel Turner's name was misspelled in an earlier version of this post.