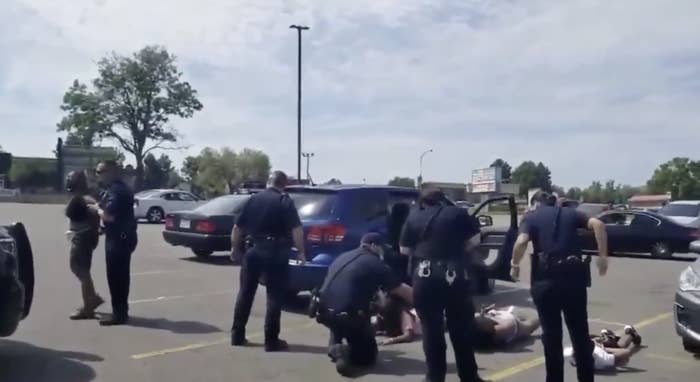 A Black family who went to the nail salon Sunday ended up being held at gunpoint and handcuffed facedown on a hot concrete parking lot in Aurora, Colorado, by police officers who mistook their car for a stolen vehicle.
Brittany Gilliam was taking her 6-year-old daughter, 12-year-old sister, and her nieces, 17 and 14, to get their nails done when police saw their car at the parking lot and drew their guns on them.
The family was parked at the time after realizing the salon they wanted to go to was closed, and Gilliam was on her phone trying to find one that was open, her lawyer David Lane told BuzzFeed News.
"All of a sudden one of her nieces started screaming, 'Oh my God, there's cops behind us with their guns drawn!'" Lane said.
The officers ordered them to step out of the car and lie down on the ground, and they handcuffed the two teenagers. Gilliam was also handcuffed and put into a police car.
Video of the incident from a bystander shows the girls lying on the ground, screaming and crying as three to four officers surround them.
"They have seen enough videos, especially in recent times, of white cops with guns on Black people to know that their lives were in serious jeopardy," Lane said. "And they were absolutely terrified."
Police told Gilliam that she was in a stolen car. Gilliam then asked officers to retrieve her license and registration from the glove compartment, which her attorney said they did not do.
In a statement provided to BuzzFeed News, Aurora police said that Gilliam's car "matched the license plate number and vehicle description" of a possible stolen vehicle that had been reported that morning.

"Shortly after," officers determined that Gilliam's car was not the vehicle that had been reported stolen, the statement said, adding that the "confusion" may have been due to Gilliam's car being reported as stolen in the past.
Gilliam did report that her car had been stolen back in February, but Aurora police recovered it the next day, Lane said.

The officers released the family from handcuffs when they realized their mistake and apologized, police said. But Gilliam and the girls were made to wait at the parking lot for "over two hours" for a sergeant to show up, then later a lieutenant, according to Lane.
Despite the department saying Gilliam's car matched the stolen vehicle description, local outlet 9News reported that Aurora police said the stolen vehicle was a motorcycle that had the same license plate from a different state.
Aurora interim police chief Vanessa Wilson said in a statement that officers are trained to draw their weapons during an encounter involving a stolen vehicle and order all occupants to lie on the ground.
"But we must allow our officers to have discretion and to deviate from this process when different scenarios present themselves," Wilson said. "I have already directed my team to look at new practices and training."
Gilliam and her family are deeply traumatized, Lane said, and the children will receive counseling. Wilson said in her statement that the city will cover their therapy costs.
Aurora's police department has come under heavy scrutiny in recent months over the death in police custody of Elijah McClain. The 23-year-old Black man had been walking home from the grocery store when police stopped him, placed him in a chokehold, and then had paramedics inject him with ketamine.

In June this year, Colorado Gov. Jared Polis ordered a new investigation into McClain's death amid widespread calls for justice for his family.
Lane's law firm partner, Mari Newman, is representing the McClains.