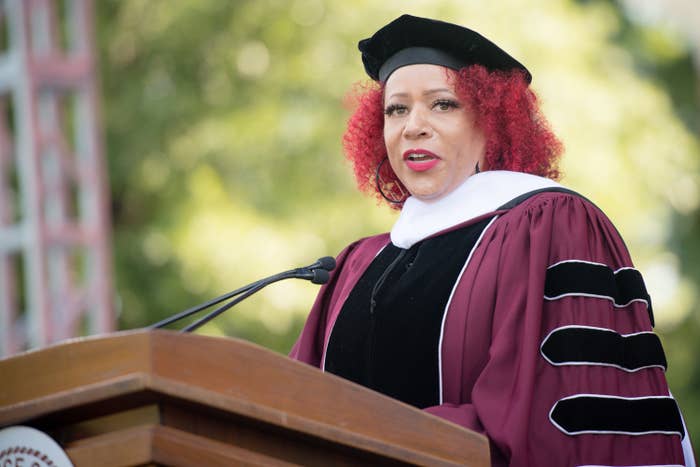 Journalist Nikole Hannah-Jones has turned down a tenure offer from the University of North Carolina following a contentious tenure dispute and will instead join Howard University's faculty, she announced Tuesday.
Amid the political weaponization of critical race theory by conservatives, Hannah-Jones was denied tenure as the Knight Chair in Race and Investigative Journalism in May by the UNC board of trustees, an unusual move that sparked a national outcry and protests by the student body.
The board finally granted her tenure last week in a 9–4 vote, just days before she was slated to start her position at the university.
"Look what it took to get tenure," she told CBS This Morning in an interview on Tuesday. "I went through the tenure process and I received the unanimous approval from the faculty to be granted tenure. And so to be denied it and to only have the vote occur on the last possible day at the last possible moment, after threat of legal action, after weeks of protest, after it became a national scandal, it's just not something that I want anymore."
Established at UNC's Hussman School of Journalism and Media in the 1980s, Knight Chairs have historically been tenured positions, bringing professional journalists into academia.
Hannah-Jones' application for tenure was denied by the board despite approval by the school's administrators and faculty. She was instead offered a five-year contract without tenure.
Hannah-Jones said she believed she was initially denied tenure "because of political opposition, because of discriminatory views against my viewpoint, and I believe my race and my gender."
The Assembly reported that mega-donor Walter Hussman Jr. — whom the university's journalism school is named after — had privately expressed discomfort with Hannah-Jones' Pulitzer Prize–winning 1619 Project on how slavery shaped the US.
"Based on her own words, many will conclude she is trying to push an agenda, and they will assume she is manipulating historical facts to support it," Hussman wrote in an email to the chancellor and journalism school dean.
Hussman, who is white, took umbrage at Hannah-Jones' writing that Black enslaved people fought against slavery on their own "for the most part."
"Long before Nikole Hannah Jones won her Pulitzer Prize, courageous white southerners risking their lives standing up for the rights of blacks were winning Pulitzer prizes, too," he wrote in another email, according to the Assembly.
Hussman denied withholding donations and influencing the school over Hannah-Jones' position.
The opposition to the 1619 Project has also come from Republican lawmakers, who have stoked and weaponized the anger around efforts to educate students on how the US was built on a legacy of racism and white supremacy.
The North Carolina state legislature, which is majority Republican, wields some power over the UNC's board of trustees, appointing four of its 13 members.
In a lengthy statement about her decision to reject UNC's tenure offer, Hannah-Jones said the tenure debacle has been "deeply painful" for her.
"I cannot imagine working at and advancing a school named for a man who lobbied against me, who used his wealth to influence the hires and ideology of the journalism school, who ignored my 20 years of journalism experience, all of my credentials, all of my work, because he believed that a project that centered Black Americans equaled the denigration of white Americans," she wrote. "Nor can I work at an institution whose leadership permitted this conduct and has done nothing to disavow it."

Faculty members at UNC's journalism school issued a statement following Hannah-Jones' announcement on Tuesday, criticizing the school's treatment of her as racist.
"We support Ms. Hannah-Jones's choice. The appalling treatment of one of our nation's most-decorated journalists by her own alma mater was humiliating, inappropriate, and unjust," they wrote. "We will be frank: It was racist."
Susan King, the school's dean, said that while she was disappointed that Hannah-Jones won't join the UNC faculty, "we wish her nothing but deep success."
Hannah-Jones will join Howard University with tenure as its inaugural Knight Chair in Race and Journalism this summer, alongside celebrated author Ta-Nehisi Coates, who will be a faculty member in the College of Arts and Sciences.
"I have decided that instead of fighting to prove I belong at an institution that until 1955 prohibited Black Americans from attending," she wrote in her statement, "I am instead going to work in the legacy of a university not built by the enslaved but for those who once were."