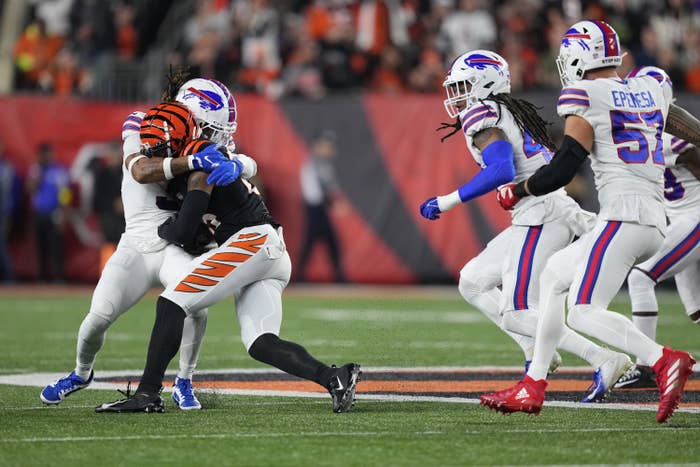 Buffalo Bills safety Damar Hamlin has shown some improvement but remains in critical condition at the hospital after suffering a cardiac arrest on the field during a game on Monday night, his team said.
Hamlin, 24, was struck in a tackle on the Cincinnati Bengals wide receiver Tee Higgins during the first quarter of the game. He got up, then collapsed backward onto the ground.
Medical staff rushed to the field and performed CPR on Hamlin for more than 10 minutes. His heartbeat was restored and he was taken to the University of Cincinnati Medical Center for treatment.
Hamlin remains under intensive care and was still in critical condition as of Wednesday afternoon, the Bills said in an update. But he showed "signs of improvement" on Tuesday and overnight into Wednesday, his team said.
Dorrian Glenn, Hamlin's uncle, told CNN on Tuesday night about watching his nephew sustain a grave injury on the field.
"I'm not a crier, but I've never cried so hard in my life. Just to know, like, my nephew basically died on the field and they brought him back to life," he said.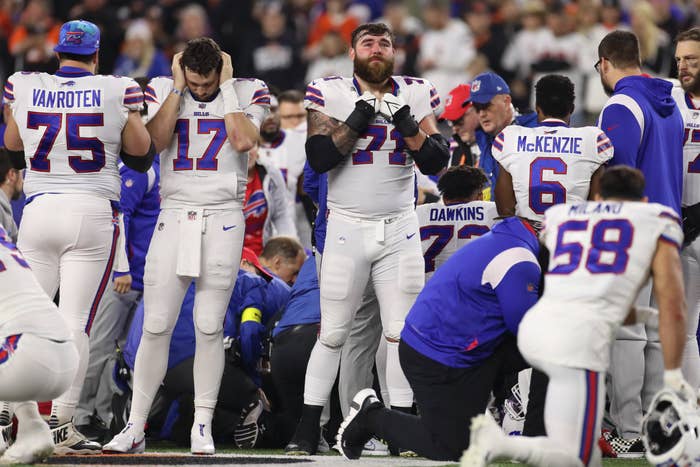 On Monday night, as he received CPR on the field, Hamlin's teammates surrounded him, watching. Some were seen looking distraught and crying, and others kneeled on the ground.
The game was suspended and then officially postponed.
Throughout the night, NFL players and teams tweeted their prayers for Hamlin and his family.
Over the next few days, a toy drive that Hamlin organized on GoFundMe in late 2020 received millions of dollars in donations, with many people wishing for his recovery.
"As I embark on my journey to the NFL, I will never forget where I come from and I am committed to using my platform to positively impact the community that raised me," Hamlin wrote on the fundraiser page. "This campaign gives you the opportunity to contribute to our first initiative and positively impact children who have been hardest hit by the pandemic."
The fundraiser's target was $2,500. As of Wednesday morning, it had raised more than $6 million.
Hamlin's latest Instagram post was about his annual Christmas toy drive, now in its third year. The video shows him playing with the kids and posing for photos with them.
A Pennsylvania native, Hamlin has played with the Bills since joining the team as a sixth-round draft pick from the University of Pittsburgh in 2021.
His friend, Jordon Rooney, told Good Morning America that Hamlin is "fighting" in the hospital.
"The family is in good spirits, we're honestly just taking it minute by minute, hour by hour," Rooney said.
His family also thanked fans for their support and prayers on Tuesday.
"On behalf of our family, we want to express our sincere gratitude for the love and support shown to Damar during this challenging time," they said in a statement shared by Rooney. "Your generosity and compassion mean the world to us. Please keep Damar in your prayers."