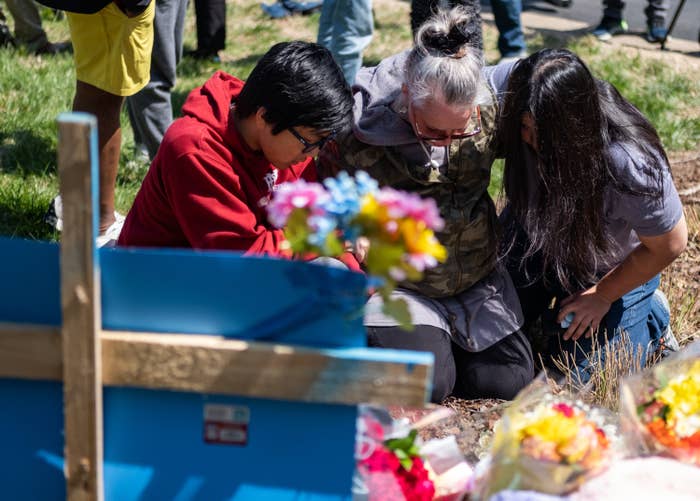 The Nashville school shooting suspect, who was seeing a doctor for an emotional disorder, had legally bought seven firearms from local gun stores and hid them at home without his parents' knowledge, police said Tuesday.
Audrey Hale, the 28-year-old shooter, used three of those seven firearms in the attack on Covenant School, a private Christian elementary school in Nashville. Hale was a student there at one point. Three 9-year-old students and three adult staff members were killed in the shooting. Hale was later shot and killed by police.
Police initially identified Hale as a woman, but later clarified that Hale was transgender. Hale used he/him pronouns, according to a LinkedIn profile. A friend told ABC News that Hale recently transitioned, and was going by Aiden.
The shooter broke into the school on Monday morning armed with two assault-style rifles and a handgun. Security camera footage released by the Metro Nashville Police on Tuesday shows Hale pulling up to the school parking lot, then shooting at the glass doors of the building to gain entry.
Police also released officer body camera footage showing two police officers shooting and killing Hale inside the school building. (Warning: The video is graphic.)
Hale was under a doctor's care for an emotional disorder, police chief John Drake told reporters on Tuesday. Hale's parents felt that Hale shouldn't own any weapons, and they thought the one firearm they knew Hale owned had been sold.
Hale left home on Monday carrying a red bag, and Hale's parents asked what was inside. Police said Hale dismissed it and the mother did not check the bag because she didn't know that Hale owned any weapons and "didn't think any differently."
Drake said Hale was not on law enforcement's radar. Tennessee has some of the laxest gun laws in the country, but there are some restrictions on gun ownership for people who have been institutionalized over their mental health. Police were not aware of Hale's medical treatment, but if there had been a report that Hale was suicidal or that could potentially harm someone, officers "would have tried to get those weapons," Drake said.
Police have not yet established a motive for the shooting, and Drake said there was no evidence that the victims were targeted. Hale left behind a manifesto in which several other locations were mentioned, but Drake declined to confirm if those other spots were also targets.
Investigators found a map of the school in the manifesto, a drawing of how to enter the campus, and "the assaults that would take place," he added.
Drake also suggested that there was an exchange between one of the victims and the shooter. Katherine Koonce, the head of the school who was killed, "met" the shooter in the hallway, he said, but he declined to call it a confrontation.
There have been 130 mass shootings in the country so far this year, six of which have taken place in Tennessee, including at Covenant School, according to a tally from the Gun Violence Archive. Firearms are the leading cause of death for children and teens in the US.