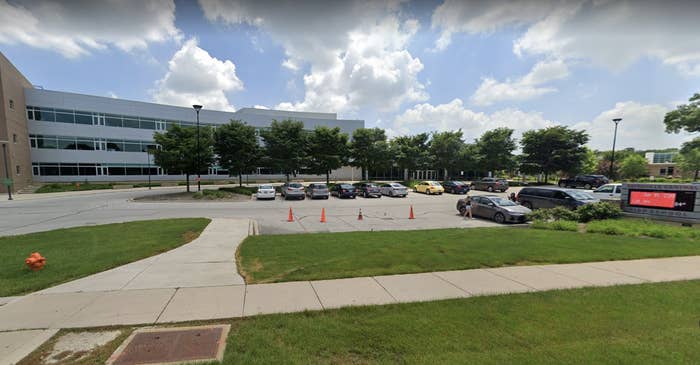 A 14-year-old student from Naperville, Illinois, was charged with a hate crime Wednesday after he allegedly posted a Craigslist ad to "sell" his black classmate.
According to a press release from the DuPage County State Attorney's office, the teenage boy, a student at Naperville Central High School, took a photo of his black classmate on Nov. 14. He then made a listing on Craigslist for a "Slave for sale (Naperville)" with a racist slur in the caption.
Police began to investigate the Craigslist post four days later, after being alerted to it. A spokesperson for the DuPage County State Attorney's office, Paul Darrah, told BuzzFeed News the 14-year-old was taken into custody on Nov. 19.
The boy, who is white, has not been identified. He was charged with two counts of a felony hate crime and one count of disorderly conduct.
The Central Times, the school's student-run newspaper, reported that Principal Bill Wiesbrook emailed parents about the incident one day after the ad was posted, saying it was "not reflective" of the school.
"We hold our students accountable for their behavior, which includes appropriate disciplinary consequences," he wrote.
The Naperville Community Unit School District 203, which the school is a part of, did not immediately respond to requests for comment.
The victim's mother — who was also not identified — told WGN News the student who was charged had disparaged her son in the past.
"They used to be friends, they are not anymore. The moment he started teasing my son, calling him dumb, making fun of his skin color, saying 'shut up slave' last October," she told the news outlet. "They are not friends anymore."
Naperville Police Chief Robert Marshall denounced the Craigslist post in the press release, calling it a "despicable and extremely offensive post that is not at all reflective of the caring, welcoming community that our department serves and protects every day."
Calls to Marshall's office were not immediately returned.
Naperville, which is about 30 miles west of Chicago, is an overwhelmingly white city. According to the most recent US census figures, 75% of Naperville residents are white and 5% are black.
The city, with a population of 148,000 residents, was under the national spotlight for another racist incident recently, too.
Last month, employees at a local Buffalo Wild Wings had allegedly asked a group of patrons — who were all minorities, and mostly black — to move to a different table because two white regulars were unhappy with being seated next to them.
The group left soon after, and one of them posted about their experience on Facebook. The post went viral, and the restaurant received widespread backlash for how its employees handled the situation.
Buffalo Wild Wings later said the two employees involved had been fired, and that the rest of its staffers will undergo sensitivity training.