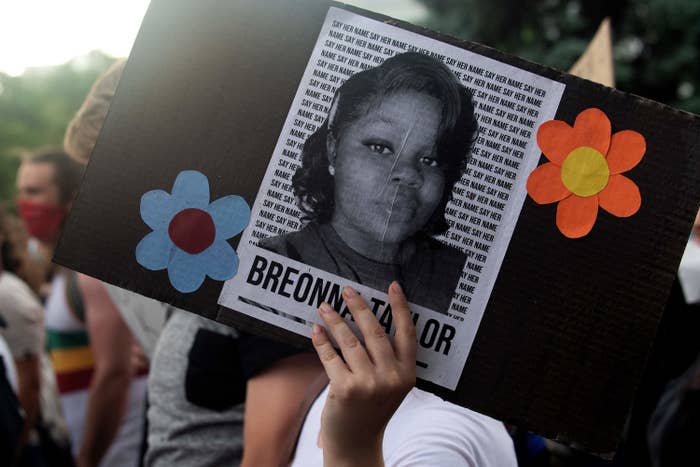 For years, members of the Louisville Metro Police Department violated the rights of the public and discriminated against Black people, according to a federal investigation that was launched after officers fatally shot Breonna Taylor in her home, sparking widespread demonstrations and protests.
The investigation, the results of which were announced by the Justice Department on Wednesday, found that Louisville police subjected people to unlawful tasings, beatings, and dog bites; sought unjustified search warrants and conducted no-knock warrants illegally; violated the rights of protesters; unlawfully searched and detained people; and discriminated against Black people and others with disabilities.
Police "engaged in a pattern or practice of conduct" that violated the Constitution and federal law, the Department of Justice said in a report that details the findings of a nearly two-year investigation into the LMPD and the Louisville/Jefferson County Metro Government.
"Our investigation found that the police department and city government failed to adequately protect and serve the people of Louisville, breached the public's trust, and discriminated against Black people," Assistant Attorney General Kristen Clarke said at a news conference.
The Department of Justice also found failures in the LMPD's response to domestic violence and sexual assault cases, including when the officers themselves faced allegations of sexual misconduct or domestic abuse.
The LMPD first came under national scrutiny in March 2020 after officers shot and killed Breonna Taylor, a 26-year-old Black woman, while executing a no-knock search warrant at her home in the middle of the night. Her death, along with George Floyd's murder by Minneapolis police two months later, sparked an international reckoning on racism and police brutality.
The Department of Justice launched a probe into the LMPD and Louisville Metro Government in April 2021. Attorney General Merrick Garland said the conclusions in the report prove that Taylor's killing was a "symptom" of problems in the LMPD.
In a statement through their attorney, Ben Crump, Taylor's family said they were "encouraged" by the findings that revealed "a pattern of biased policing and a long list of constitutional violations" by the LMPD.
Among the Justice Department's findings: that the LMPD frequently used the pretense of minor traffic stops in Black neighborhoods to investigate other crimes, and that officers treated people with disdain and disrespect.
"Some have videotaped themselves throwing drinks at pedestrians from their cars, insulted people with disabilities, and call Black people 'monkeys,' 'animal,' and 'boy,'" Garland said. "This conduct is unacceptable."
The investigation found that officers stopped and cited Black drivers for minor traffic offenses at far higher rates than white drivers. Black people were also charged with misdemeanors more often than white people, according to the report.
One Black resident with a behavioral health disability had more than 25 police encounters in less than two years, Clarke said. Police needlessly escalated the situation in those encounters, used unreasonable force when dealing with him, and even mocked him.
"The man ultimately died in a Louisville Metro detention center after he had once again been arrested by LMPD," Clarke said.
Often, the LMPD "responds aggressively to people criticizing the police," both in daily encounters and during lawful demonstrations — even prior to the racial justice protests in 2020, the Department of Justice said.
Crucially, the city noted that it does not acknowledge that there is a pattern of constitutional violations in police conduct. However, in an effort to address the issues, the LMPD and Department of Justice have reached an agreement in principle, which is typically the precursor to a legally binding contract.
"The agreement in principle only represents a framework and in the coming months we will use the framework to negotiate a comprehensive consent decree with the city that will be filed in federal court," Associate Attorney General Vanita Gupta said.
The Justice Department said it will be looking into each incident uncovered in the probe; some are known to authorities and have been investigated, and some may not have. (The four former officers who conducted the raid on Taylor's apartment are charged with federal crimes in a separate case.)
"This investigation did not involve criminal inquiry into any individual officers. We want to underscore that this investigation did not focus on isolated incidents. It was focused on uncovering systems that were broken and patterns of misconduct," Clarke said.
LMPD Police Chief Jacquelyn Gwinn-Villaroel said the Justice Department's findings marked an "extremely challenging and pivotal point" for the city.
"We are committed to ensuring police practices not only reflect constitutional principles, but the values of the communities served by LMPD," she said, before closing out with a Martin Luther King Jr. quote.