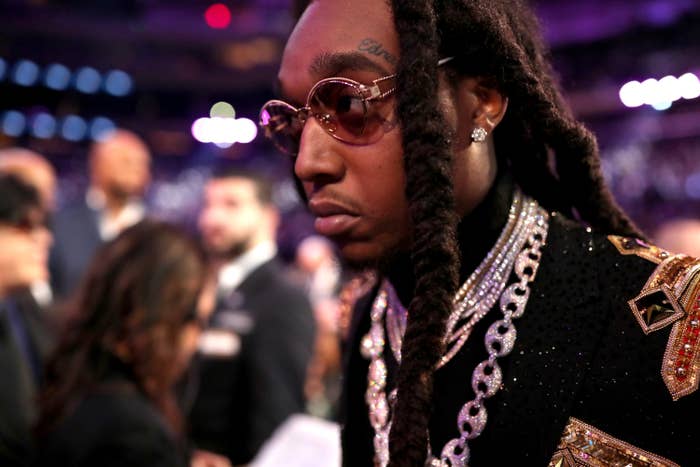 A woman is suing rapper Takeoff, who is part of the Atlanta rap trio Migos, alleging that he made unwanted sexual advances toward her at a party in a Los Angeles house on June 23 and raped her in a bedroom.
Filed in the Los Angeles Superior Court on Wednesday, the lawsuit, which BuzzFeed News obtained a copy of, alleges that Takeoff — whose given name is Kirshnik Khari Ball — entered the bedroom that the woman was in, touched her without consent, and then flipped her over, removed her clothing, and raped her.
Takeoff's publicist and manager did not immediately respond to multiple requests from BuzzFeed News with questions about the lawsuit, but his attorney Drew Finding denied the allegations in a statement to Variety.
"What has become abundantly clear is that the allegations made against Mr. Ball are patently and provably false. The claims and statements made regarding this lawsuit indicate that the plaintiffs' representatives have not spoken with relevant witnesses or reviewed available evidence," Finding said. "Mr. Ball is renowned for his artistic talent as well as his quiet, reserved and peaceful personality. In this instance, those known personality traits have made him a target of an obvious exploitative money grab. As his counsel, we are well aware and well versed on the importance of civil and criminal prosecution of true sexual assaults. This is not one of those situations."
The woman is identified in the civil complaint as Jane Doe over fears of retaliation for speaking out, Neama Rahmani, the lead attorney representing her in the case, told BuzzFeed News. Rahmani said his client is "terrified" of having her identity revealed.
LAPD Officer Norma Eisenman told BuzzFeed News there is an open investigation into this case.
According to the lawsuit, on the evening of June 22, Doe arrived at a house in Encino, Los Angeles, on an invite from Daryl McPherson, who performs as Migos's DJ under the name DJ Durel.
McPherson, who is not a defendant in the lawsuit, did not immediately respond to questions about the allegations.
Rahmani said Doe did not know it would be a party, and she had accepted McPherson's invite to the house to watch a movie under the assumption it was a date.
But there were others at the house when she arrived, and loud music was playing, the lawsuit says.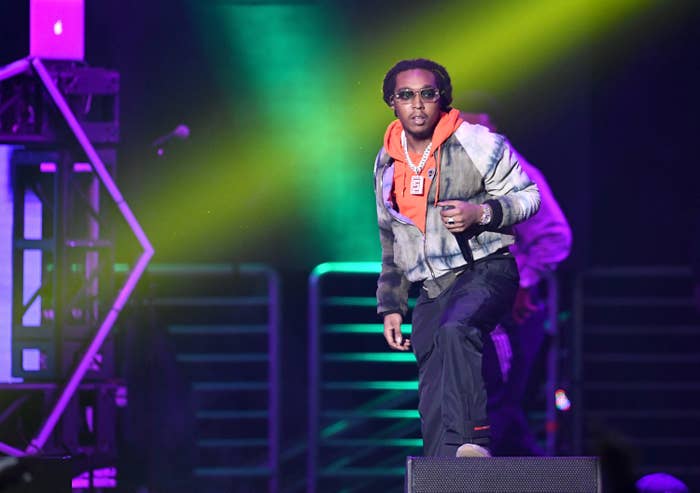 Doe claims she noticed Takeoff staring at her several times throughout the evening, which made her "extremely uncomfortable." Takeoff later initiated a conversation with her and offered her weed, the lawsuit says, after which she left the conversation and told McPherson she did not want to "engage in any sort of intimate relationship" with Takeoff.
McPherson then offered to take Doe to his bedroom upstairs; while the two were walking up to the room, they encountered Takeoff coming down the stairs. McPherson and Takeoff had an argument, and Doe, who was "fearful and uncomfortable with the situation," according to the lawsuit, continued upstairs alone to the bedroom.
Doe alleges that a short while later, Takeoff entered the bedroom and began touching her buttocks. She "clearly and unequivocally" refused Takeoff's advances, the lawsuit says, and told him she did not want to have sex with him.
Despite her refusal, Doe claims Takeoff grabbed her, flipped her facedown on the bed, took her clothes off, and proceeded to "have forceful intercourse" with her from behind without her consent. Rahmani said the alleged rape took place around 2 a.m.
"After [Takeoff] finished raping [Doe], he immediately left the room," the lawsuit states.
Doe texted McPherson after the alleged rape, Rahmani said, "and he basically says 'just hop in the shower.'"

That night's alleged encounter was "the first and only interaction" that his client had had with Takeoff.
After recovering from the initial shock, Doe left the house and later sought medical care at the Northridge Hospital Medical Center, according to Rahmani.
At the hospital, "staff observed physical evidence of forceful rape and notified the Los Angeles Police Department of the same," the lawsuit states.
Doe is suing Takeoff for damages over sexual battery, assault, false imprisonment, intentional and negligent infliction of emotional distress, and gender violence, among others.