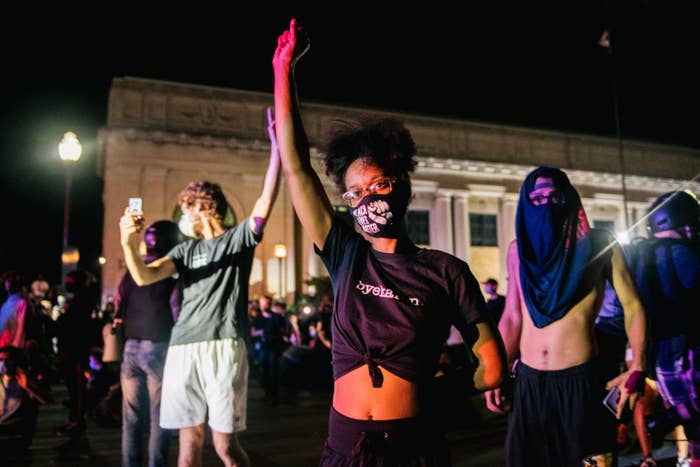 Rusten Sheskey has been identified as the Kenosha police officer who shot Jacob Blake in the back as he tried to get in his car with his children inside, the Wisconsin Department of Justice said.
In a statement released Wednesday, the agency said officers had attempted to arrest Blake, a 29-year-old Black man, and a Taser did not subdue him.
Details released by the Wisconsin DOJ leading up to the moment of the shooting lines up with bystander video of the incident that was shared widely early this week. Blake walked around his car and opened the driver's side door, and Sheskey grabbed Blake's shirt and fired his gun into his back, the statement said.
"No other officer fired their weapon," the statement said, adding that the officers were not wearing body cameras because the Kenosha police department does not have them.
Blake said he had a knife during the initial investigation, according to the agency, and investigators later found a knife from the driver's side floorboard of Blake's car. There were no other weapons in the vehicle.
Sheskey has been a Kenosha police officer for seven years. Photos from April 2013 on the KPD's Facebook page show him being sworn in with other new officers.
The department did not respond to a request about whether Sheskey is still with the KPD.
In an interview with Kenosha News last year, Sheskey said his favorite part of the job was helping people and making their day better, calling it a "huge responsibility."
"We may not be able to make a situation right, or better, but we can maybe make it a little easier for them to handle during that time," he told the outlet.
"We're in a public service job, a customer service job, and the public is our customer," Sheskey added. "I think that, especially with the officers that we have here, everybody strives to make sure that the public feels served and happy with the services they receive. A lot of officers go way out of their way to make sure that that's done."
Prior to being employed by the KPD, Sheskey was a police officer at the University of Wisconsin-Parkside. He worked on an alleged hate crime case on campus in 2012 in which several Black students received death threats and nooses were found in a dorm, the Journal Times reported.
Blake's shooting has set off protests in major cities and plunged Kenosha into a state of unrest. Earlier on Wednesday, a 17-year-old white teen was charged with homicide for allegedly killing two people and injuring another with an AR-15 during protests in Kenosha the night before.
Blake's family has asked for protests to remain peaceful but called for the officers to be brought to justice. They said Blake is now paralyzed from the waist down.
"They shot my son seven times — seven times like he didn't matter," Blake's dad, Jacob Blake Sr., told the Washington Post. "But my son matters. He's a human being and he matters."