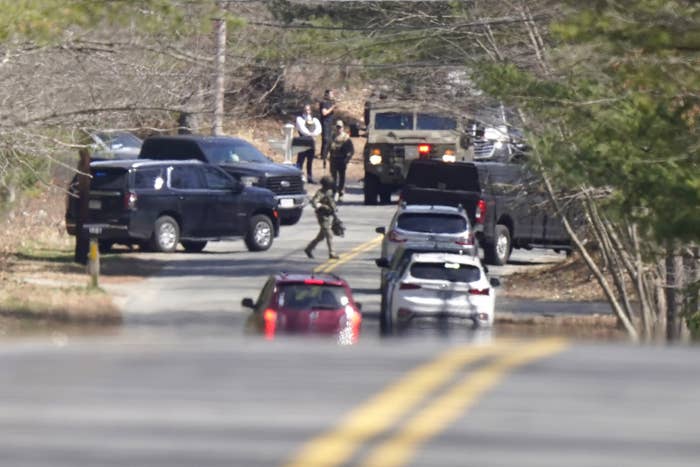 A 21-year-old member of the Massachusetts Air National Guard has been arrested on suspicion of leaking a trove of classified documents to his friends on Discord, some of which were later posted on other corners of the internet.
Federal agents arrested Jack Douglas Teixeira at his home in North Dighton, Massachusetts, on Thursday, the FBI confirmed in a statement to BuzzFeed News. "The FBI is continuing to conduct authorized law enforcement activity at the residence," the agency said.
Attorney General Merrick Garland said at a brief news conference that Teixeira was arrested as part of "an investigation into alleged unauthorized removal, retention, and transmission of classified national defense information."
Ann Stefanek, an Air Force spokesperson, told BuzzFeed News that Teixeira is a cyber transport systems journeyman — which means he was tasked with maintaining communication systems — stationed at the Otis Air National Guard Base in Cape Cod. He entered the Air National Guard on Sept. 26, 2019, Stefanek said.
Video captured by news outlets shows Teixeira in a green T-shirt and red shorts, surrounded by uniformed federal agents as he sits in the back of a law enforcement vehicle with his hands behind his back.
Teixeira is allegedly behind a massive leak of classified national defense material that exposed US surveillance on foreign allies and top secret information on the Ukraine–Russia war.
He allegedly shared those documents with people in a private Discord channel called "Thug Shaker Central" over several months, the Washington Post reported. According to the Post, who spoke to two members of the group, including a teenager under 18, Teixeira — whom the teen called "OG" — was the leader of the group and shared those documents with them to "keep us in the loop," the teen said.
Members of that Discord group shared an interest in God, guns, and military gear, the Post reported. They bonded online during the pandemic, exchanging racist memes, watching movies together, and learning about secret documents on the Ukraine war and US foreign policy from Teixeira, according to the Post.
The group comprised 20 to 30 people from the US and abroad, most of them young men and teenage boys, the New York Times reported. Teixeira's identity was first revealed by the Times, who went to his house in Massachusetts on Thursday and spoke to his mom.
Some of these top secret documents were later shared on other online platforms beginning in early April, and the Times reported on them on April 8. The investigative journalism group Bellingcat then traced the source of the documents to the "Thug Shaker Central" Discord group.
Teixeira will make an initial appearance at the US District Court in Massachusetts on Thursday.