A New York woman is speaking out after she tried shopping for jeans at Everlane only to learn that the retailer doesn't stock extended sizes in its stores despite offering them online — prompting hundreds of women to respond sharing similar shopping experiences.

On Monday, Nicolette Mason, a brand strategist and fashion writer, tweeted about her experience shopping at Everlane's newly opened store in Brooklyn.
The clothing brand operates on a philosophy of "radical transparency" around its pricing and practices, but Mason tweeted that when she visited the brick-and-mortar location, the company "neglected to stock over a 31/32 in their denim in store" despite offering up to a waist size 35 for women online.
"I asked a [sales assistant] why and she said they're stocking their 'best selling sizes' — maybe you'd sell more [if] people could try them on!!" Mason tweeted.

Mason told BuzzFeed News that the store was launching a different product the day she was there.
"It was really disappointing that [the extended denim sizes] weren't available in the store," Mason said, "but then of course they had room for a new boot launch."

Her tweets led to a flurry of responses from other customers about similar frustrations with the company and other clothing brands. Many expressed their disappointment with Everlane, which touts its mission of sustainability and transparency.
The company apologized to Mason on Twitter for not carrying extended denim sizes in the store. "We definitely hope to carry the full size range of denim soon for try on," the tweet said.

However, Mason said that it was "kind of a canned response that a lot of brands give."
On Tuesday evening, she posted a story on Instagram — where she also detailed her experience at the store — announcing that the company later told her that it was "planning to integrate [its] entire existing size range into [its] stores in the coming weeks."
"We fell short in stocking our full denim size range at our Williamsburg opening. We're fixing the issue as quickly as possible in the coming weeks," Everlane VP of Merchandising Erika Edelson told BuzzFeed News.

The company has faced criticism over its sizing options dating back to 2015. Customers have long noted Everlane's delay in expanding its sizes; it currently carries up to a size 16 for women's clothing, which, as many have pointed out, is about what the average American woman wears.
But Everlane is far from the only clothing brand to be called out for failing to cater to plus-size customers. Mason said that she got "about 400 responses from other people" about their bad experiences with Everlane and other retailers.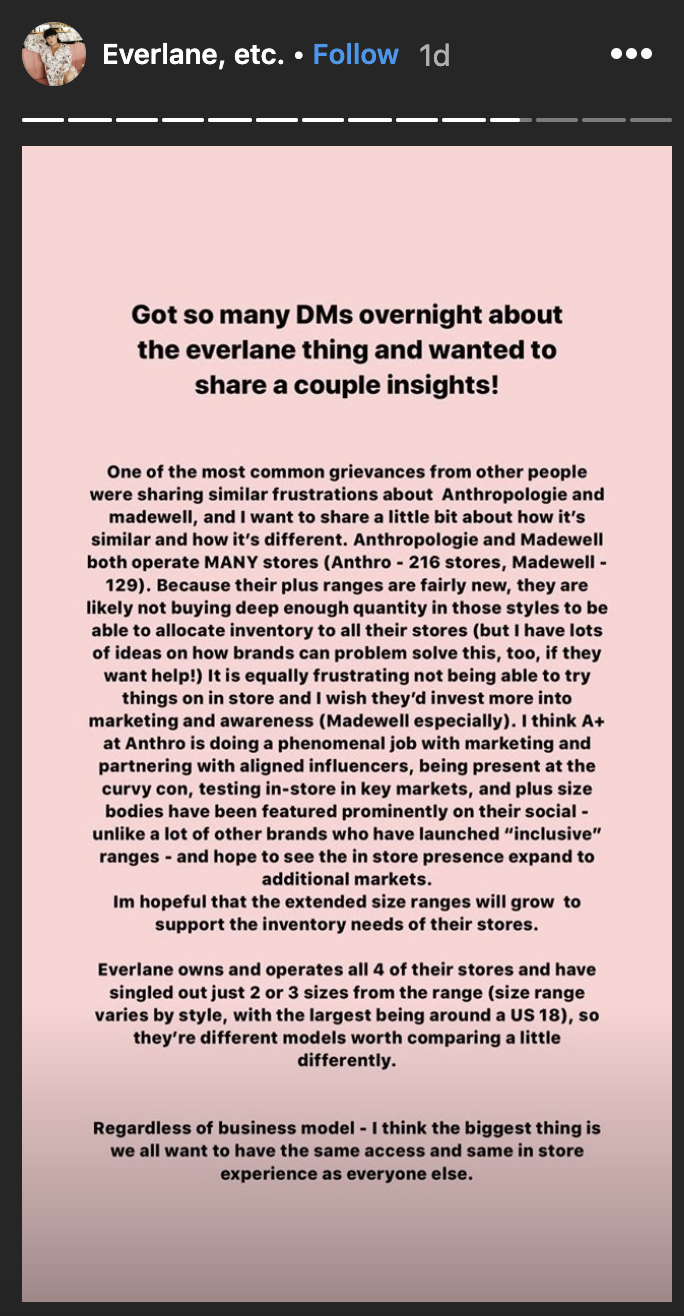 But Mason stressed that there's a difference between other brands with dozens of retail locations across the country, and Everlane, a primarily online brand with only four in-person stores.

"There's no reason — especially for a brand-new brick-and-mortar location, which invested millions of dollars into the build-out — to not include all their size range on the floor," Mason said.
Mason said that brands cannot afford to ignore plus-size customers anymore.
"I think now there's such a tidal wave of conversation of inclusivity that it's only going to make brands look worse to ignore it," she said. "Especially when they're already producing those sizes."