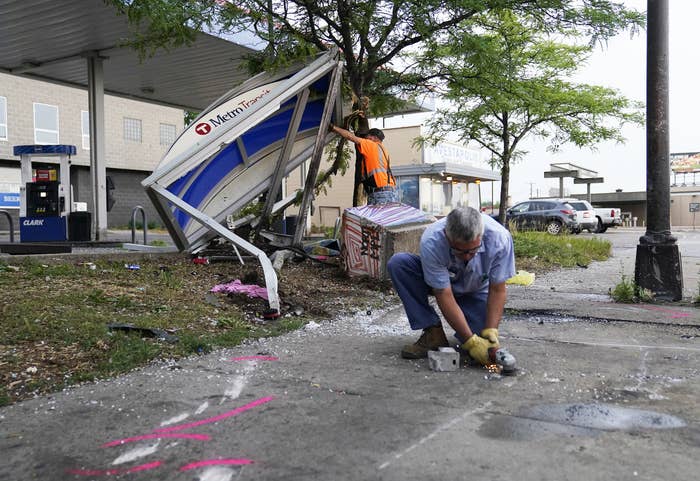 Leneal Lamont Frazier, the uncle of Darnella Frazier, a teenager who filmed Minneapolis police officers killing George Floyd last year, was killed early Tuesday after Minneapolis police in pursuit of a car crashed into his vehicle.
A Minneapolis police officer was chasing a carjacked vehicle involved in several robberies at around 12:30 a.m. when the officer crashed into another car, MPD spokesperson John Elder said.
The driver, whom Hennepin County Medical Examiner identified as Frazier, and the police officer were both transported to the hospital. Frazier died shortly after of multiple blunt force injuries, the medical examiner said.
The officer sustained serious but not life-threatening injuries, Elder said. The suspect remained at large on Wednesday.
Darnella Frazier, whose video of George Floyd's death sparked a national reckoning on race and police brutality, posted on Facebook on Tuesday evening that the driver killed in that crash was her uncle.

"MINNEAPOLIS police Killed my uncle. MY uncle... Another black man lost his life in the hands of the police! I asked my mom several times 'he died??'" she wrote. "Minneapolis police has cost my whole family a big loss...today has been a day full of heartbreak and sadness."
Cheryl Frazier, his sister, told BuzzFeed News that her brother had been on his way home when the crash happened.

"The only thing that we know is that he was going home and the police was chasing someone else, and he ended up getting hit by the police," she said.
The family heard about the crash through Frazier's oldest son, who is incarcerated. Authorities contacted him first, Cheryl said, "and that's when we actually got on the phone and started calling around."
Frazier had six children. The oldest was 22 and the youngest 6 months old, Cheryl said. He also had a grandchild.
In a GoFundMe raising money for his funeral expenses and his children, the family described him as having "the biggest heart a person could ever have."
"He would help anyone, anytime no matter the circumstances," they said. "He loves to cook and bbq, and to just spend as much time with his family as possible. He was one of the sweetest people you will ever meet."
Cheryl said her brother's death has shocked the family.

"We're trying to hang in there," she added. "It's still fresh."
The Minnesota State Patrol is investigating the crash and will submit its findings to the county attorney, a spokesperson told BuzzFeed News.
The MPD allows officers to pursue a suspect only in situations in which the officer believes the suspect is involved in "a serious and violent felony or gross misdemeanor," or if their driving "would pose an imminent and life-threatening danger to the public if not apprehended," the Star Tribune reported in 2019.
The policy was changed to limit police car chases after a string of dangerous pursuits over the years.