Two young women were shot after one of them accidentally entered the wrong car in a parking lot in Texas on Monday night.
Four members of the Woodlands Elite Cheer Company, a cheerleading team in Oak Ridge North, were at an H-E-B grocery store parking lot in Elgin when one of them accidentally got into what she thought was her car, Lynne Shearer, the owner of the gym, told BuzzFeed News. The girl, Heather Roth, realized her mistake when she saw a man sitting in the passenger seat, and she went back to her friend's car and rolled down her window to apologize to the man. The man then pulled a gun out and started shooting at the car, Shearer said.
The girls panicked and drove away, but a bullet grazed Roth, and another girl, Payton Washington, was struck twice — once in the leg and once in the back, according to Shearer. A probable cause affidavit obtained by BuzzFeed News said all four of the girls were in the car when the man shot at it.
"They sped off down the road trying to get away from the guy because they didn't know if he was following them," Shearer said. "And then they pulled over when they realized that Payton was hurt, and she started throwing up blood and so they immediately called 911."
Roth was treated at the scene and released, and Washington, who is 18, was taken to the hospital in critical condition, Elgin police said on Tuesday morning.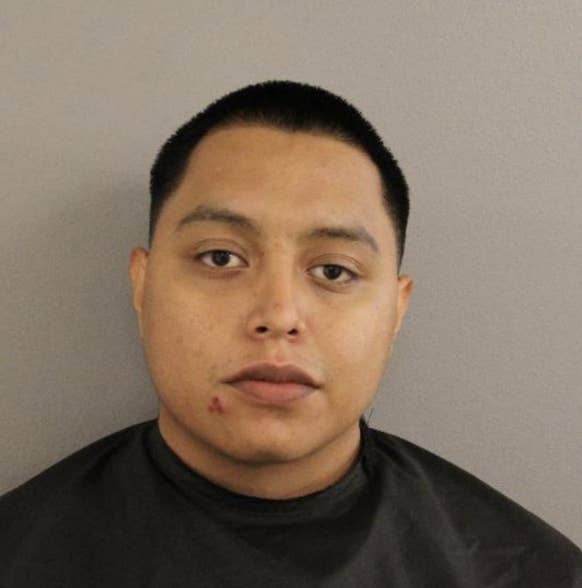 The suspect, Pedro Tello Rodriguez Jr., 25, was arrested and charged with deadly conduct, a third-degree felony. Police said he is being held at the Bastrop County Jail on a $500,000 bond.
Rodriguez does not have legal representation yet, according to court records.
The H-E-B manager saw Rodriguez fire at the vehicle "multiple times," the affidavit said. Investigators also obtained surveillance footage that showed the license plate on Rodriguez's car.
Police said additional charges may be filed.
Washington, Roth, and the two other girls are all members of the Woodlands cheer team.
"4 of our girls were involved in a horrific incident on their way home after practice last night," the team said on Instagram.
Washington is in stable condition at the ICU but "will have a long road to recovery," the Woodlands Elite Cheer Company said in a GoFundMe set up for her medical expenses.
Washington, who is from Austin, is known as a gifted and dedicated cheerleader.
"She's a well-known, well-loved cheerleader in the industry. Everybody knows her. Everybody loves her," Shearer said. "She's just an amazing athlete. She's an amazing person. She's just really a special kid."
All season long, Washington and her three team members carpooled out to Oak Ridge North from Austin — a three-hour drive — for practice three times a week, Shearer said. They used the H-E-B parking lot in Elgin as a carpool meeting spot.
The four girls were training for the upcoming Cheerleading Worlds championship this weekend. Shearer said it was the last year that the four of them would get to participate in what is essentially "the biggest cheer competition of the season for us," before they aged out of the competition.
"It's really sad that she's not going to get to finish out," Shearer said about Washington. "She's won every title there is to win in this sport except for this one."
In an interview with the sports channel Woodward from 2021, Washington said that she was aiming for a gold medal in the next two Worlds championships.
"I'm 100% focused on cheerleading all the time," she said in that interview. "I dream about it, wake up, think about it and think about what's best for my team. Cheer is everything."
Shearer said that Washington, who is awake and communicating with her family and coach in the hospital, will be watching Worlds and cheering on her team.
"She is the ultimate competitor. She would never not want them to be there," she said.
The shooting on Monday night is strikingly similar to two other incidents this past week: On Thursday, a 16-year-old in Missouri was allegedly shot and seriously wounded by a homeowner after ringing the doorbell of the wrong house. On Saturday, a 20-year-old woman in New York state was allegedly shot and killed by a homeowner after she and her friends mistakenly pulled up to the wrong address while looking for their friend's place.
Gun violence in the US is classified as a public health crisis by the American Public Health Association. It is a leading cause of premature death in the country, responsible for more than 38,000 deaths annually. According to the Pew Research Center's analysis, gun deaths among children and teens increased by 50% between 2019 and 2021.
Based on data from the Gun Violence Archive, at least 5,411 people have died from gun violence this year, and another 7,194 have died by suicide.