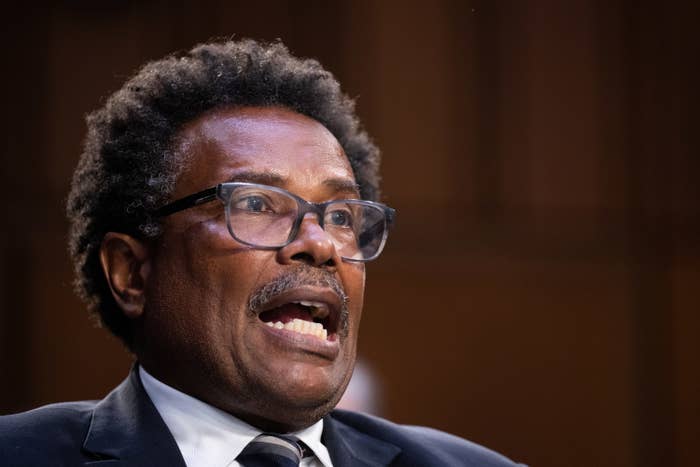 The son of a Buffalo supermarket shooting victim urged lawmakers to address the scourge of white supremacy at a Senate hearing on Tuesday, chastising those who were unwilling to do anything about it.
Garnell Whitfield, a former Buffalo fire commissioner, lost his mother, Ruth Whitfield, in the racist mass shooting in Buffalo in May. The suspected shooter, an 18-year-old white man who officials said singled out a Tops supermarket in a Black neighborhood, was charged with murder and domestic terrorism. Ten people were killed and three others were injured in the rampage.

The suspect reportedly wrote a racist screed referencing a white supremacist conspiracy theory that white people were being systematically "replaced" by nonwhite people — a theory that multiple Republican leaders and conservative pundits like Tucker Carlson have repeatedly trumpeted.
Testifying at a Senate Judiciary Committee hearing on domestic terrorism and extremism on Tuesday, Whitfield, who said he was speaking on behalf of all the Buffalo shooting victims and their families, implored lawmakers to act.
Although the suspect was responsible for the shooting, Whitfield said, "he did not act alone."
"He was radicalized by white supremacists. His anger and hatred were metastasized like a cancer by people with big microphones in high places screaming that black people were going to take away their jobs and opportunities," Whitfield said, citing findings that white supremacists represented the greatest domestic terror threat to the country, which top officials have warned about in recent years.
"And yet nothing's been done to mitigate it or eradicate it," he said.
Whitfield called access to guns "a driver of this violence," but he told senators that they had to start dealing with the ideology behind the violence.
"I ask every one of you to imagine the faces of your mothers as you look at mine. And ask yourself, 'Is there nothing that we can do?' Is there nothing that you personally are willing to do to stop the cancer of white supremacy and the domestic terrorism it inspires?" he said. "Because if there is nothing, then respectfully, senators, you should yield your positions of authority and influence to others that are willing to lead on this issue. The urgency of the moment demands no less."
Whitfield's mom was on the way back from visiting her husband at a nursing home when she stopped at Tops to pick up something to eat. It was a regular Saturday afternoon, and she had spent time with her husband at the facility that day as she had done almost every day for the past eight years, Whitfield said.
"She was literally and figuratively the heartbeat of my family, and my father's soulmate for 68 years," he said.
"For her to be murdered, taken away by someone so full of hate, is impossible to understand and even harder to live with," Whitfield added. "But we're more than hurt. We're angry. We're mad as hell. Because this should have never happened."
Whitfield has been outspoken about the pain his family has gone through since his mother was killed. His statement to senators on Tuesday echoed some of what he said at an emotional press conference just days after the shooting.
"We do our best to be good citizens. To be good people," he said at the time. "We treat people with decency. And we love even our enemies. And you expect us to keep doing this over and over and over again. Over again. Forgive and forget. While the people we elect and trust in offices around this country do their best not to protect us."