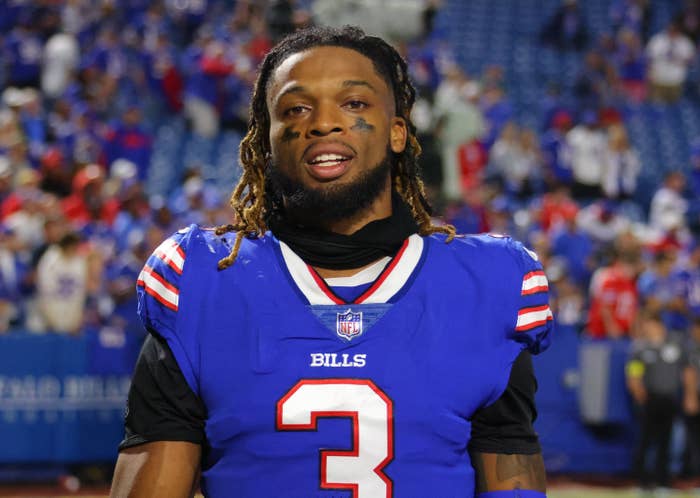 Damar Hamlin, a Buffalo Bills safety who had a cardiac arrest and collapsed on the field during a game on Monday, has "shown remarkable improvement" in the past 24 hours and is making progress in his recovery, his team said.
"Per the physicians caring for Damar Hamlin at the University of Cincinnati Medical Center, Damar has shown remarkable improvement over the past 24 hours," the Buffalo Bills said in an update on Thursday morning.
"While still critically ill, he has demonstrated that he appears to be neurologically intact," it added. "His lungs continue to heal and he is making steady progress."
Hamlin became conscious on Wednesday night and was following commands from doctors, Dr. Timothy Pritts, one of the physicians caring for Hamlin, said at a news conference on Thursday.
"It appears that his neurological condition and function is intact," Pritts said, adding that Hamlin is still being cared for in the ICU. "He still has significant progress that he needs to make but this marks a really good turning point in his ongoing care."
Hamlin's first question when he woke up was whether the Bills won the Monday night game, doctors said.
"Yes, you won," they replied. "You won the game of life."
He is still unable to talk because he has a breathing tube in, but is communicating by writing on a piece of paper.
Hamlin, 24, was injured after being struck in a tackle against Cincinnati Bengals wide receiver Tee Higgins on Monday night during the first quarter. He got back up after the tackle, but then abruptly fell backward, prompting medical staff to rush to the field.
As medics performed CPR on him for more than 10 minutes, Hamlin's teammates surrounded him, looking on in worry. Some were seen crying and praying on the field.
The game was postponed indefinitely.
Hamlin's doctors praised the quick and effective action from medics on the field when he collapsed, saying it was crucial in saving his life. Hamlin lost his pulse while medical staff attended to him on the field and was resuscitated.
"And not just saving his life, but his neurologic function," William Knight, his other physician, told reporters. "The reason why we're talking about his recovery of neurologic function is the true critical importance of immediate and good and high quality CPR and immediate access to defibrillation."
Medical experts have speculated that Hamlin experienced commotio cordis, a rare medical event that can happen when a specific part of the chest is hit by a large, sudden blow, disrupting the heart's electrical activity. Immediate treatment is critical to the patient's survival.
However, Hamlin's doctors said they haven't determined if that was what happened to him on the field.
"That condition, commotio cordis, is an incredibly rare event that happens," Knight said. "It's also a diagnosis of exclusion in our world, which basically means we have to rule out many other more common, or more deadly, or more fixable-type conditions before we can settle in on an ultimate diagnosis such as that."

There has been an outpour of love and support for Hamlin and his family following the incident. Athletes and fans said they were praying for him, and sports teams across the country lit up their stadiums in blue and red, the Bills colors, to show their support.
A GoFundMe that Hamlin launched in 2020 for a Christmas toy drive has also received a flood of new donations this past week. The fundraiser for the toy drive, now an annual event that Hamlin hosts, has raised more than $7 million so far.