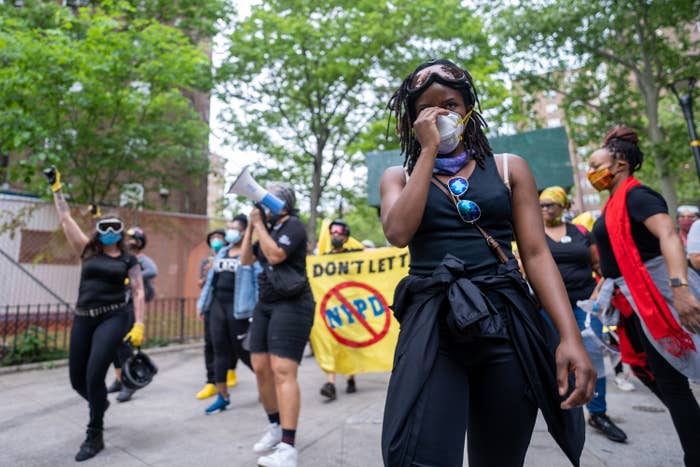 New York City has agreed to pay $21,500 each to hundreds of protesters who were kettled, beaten with batons, pepper sprayed, and forcefully detained by New York police officers during Black Lives Matter demonstrations in June 2020.
The settlement applies to roughly 320 people who were "detained and/or subjected to force by police" during a protest in the Mott Haven neighborhood of the Bronx on June 4, just days after George Floyd was brutally killed by Minneapolis police officers.
Filed in federal court on Tuesday, the terms would grant each person at least $21,500 from the city. Those given a desk appearance ticket will receive another $2,500.
The settlement concludes a class action lawsuit filed in July 2020 by protesters Samira Sierra, Amali Sierra, Ricardo Nigaglioni, Alex Gutierrez, and Charles Wood against the city of New York, former mayor Bill de Blasio, former NYPD chief Terry Monahan, and several other defendants.
The plaintiffs accused the NYPD of using unnecessary force on peaceful protesters in Mott Haven by trapping them in a police tactic called "kettling," indiscriminately unleashing pepper spray on them, and violently detaining them.
Multiple people were "left injured and bleeding" as a result, and some lost consciousness or went into convulsions, the lawsuit alleged.
Dermot Shea, the then–NYPD commissioner, said at the time that the police response in Mott Haven was a planned mass arrest that was "executed nearly flawlessly." But the NYPD was heavily criticized; Human Rights Watch said in a September report that the police conduct amounted to "serious violations of international human rights law."
In a statement to BuzzFeed News, Joshua S. Moskovitz, a lawyer representing the plaintiffs, said they hoped the settlement "marks an inflection point for policing in New York City."
"This unprecedented settlement recognizes that the NYPD's actions in Mott Haven were grievously wrong," Moskovitz said.
If approved by a judge, New York City is set to pay out at least $6.88 million altogether.
The NYPD's brutal conduct against nonviolent protesters during the 2020 racial justice demonstrations was documented by the public and widely condemned. A December 2020 report from the city's Department of Investigation found that the police used control tactics that constituted "excessive enforcement" and their actions "heightened tensions."
De Blasio, who initially defended the NYPD's actions against protesters, including after officers drove police vehicles through crowds, expressed "remorse" for how the city dealt with the protests.
Lawyers representing the city of New York, de Blasio, and the other defendants did not immediately respond to requests for comment about the settlement.