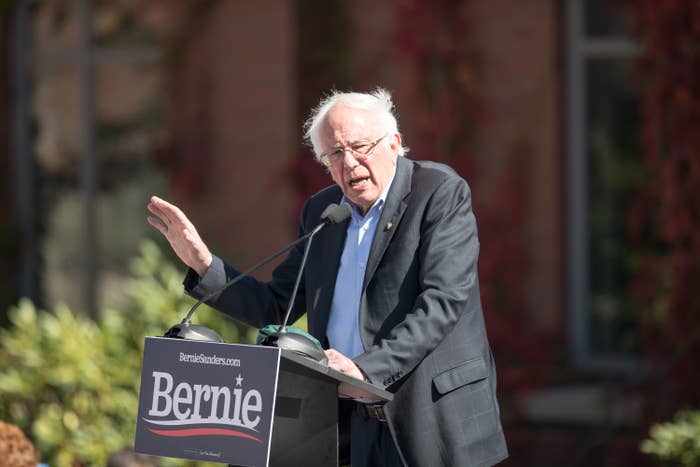 Vermont Sen. Bernie Sanders has undergone a medical procedure to open a clogged heart artery that doctors discovered on Tuesday night, officials with his campaign announced.
His presidential campaign events have been canceled "until further notice," aides said Wednesday.
"During a campaign event yesterday evening, Sen. Sanders experienced some chest discomfort. Following medical evaluation and testing he was found to have a blockage in one artery and two stents were successfully inserted," senior adviser Jeff Weaver said in a statement. "Sen. Sanders is conversing and in good spirits. He will be resting up over the next few days."
The stent procedure, which comes after months of campaigning, involves temporarily inserting a small inflated balloon in the artery to widen the blocked vessel. Stents, or wire mesh tubes, are then placed in there to ease the blockage.
A Sanders aide told BuzzFeed News the campaign would postpone a planned $1.3 million ad buy in Iowa that was due to begin Thursday.
At 78 years old, Sanders is the oldest Democratic candidate running for president in 2020. He is five years older than President Donald Trump.

The Vermont senator previously sustained a cut on his head from a glass shower door in March and received a "clean bill of health" after treatment.

According to a doctor's note released during his 2016 presidential campaign, Sanders was determined to be "in overall very good health." CNN reported at the time that he had no history of heart disease.
Shortly after the announcement from his campaign, other 2020 candidates took to Twitter to wish him a speedy recovery.
Sanders responded via Twitter on Wednesday afternoon, thanking people for their support and using his health situation to promote his policy of Medicare for All.
Ruby Cramer contributed reporting to this story.