In a case that has been widely denounced as an attack on press freedom in the US, Andrea Sahouri, a reporter with the Des Moines Register, is scheduled to go on trial Monday over criminal charges related to her reporting on Black Lives Matter protests last year.
Police in Des Moines, Iowa, pepper-sprayed Sahouri in the face and arrested her on May 31 while she was covering protests against the brutal killing of George Floyd by Minneapolis police. Sahouri has said that she repeatedly identified herself as a reporter to police during the incident.
She faces misdemeanor charges of failure to disperse and interference with official acts, and she could be fined and jailed for up to 30 days. She has pleaded not guilty.
The Polk County attorney's office has argued that Sahouri was not wearing press credentials and appeared to be participating in an unlawful assembly, the Associated Press reported.
A Polk County prosecutor initially refused to provide evidence that Sahouri's defense team requested, including bodycam footage, arguing that the county attorney's office was too busy to do so for low-priority cases involving misdemeanors.
"It's a turn-and-burn docket," Brad Kinkade, an assistant attorney for the county, told Judge Christopher Kemp. "They're supposed to be handled with no delay and little cost."
Kemp later ordered the state to turn over bodycam video of Sahouri's arrest but declined to dismiss the charges as her lawyers requested.
Sahouri's attorney did not immediately respond to a request for comment. The Polk County attorney's office also did not respond to questions about the case.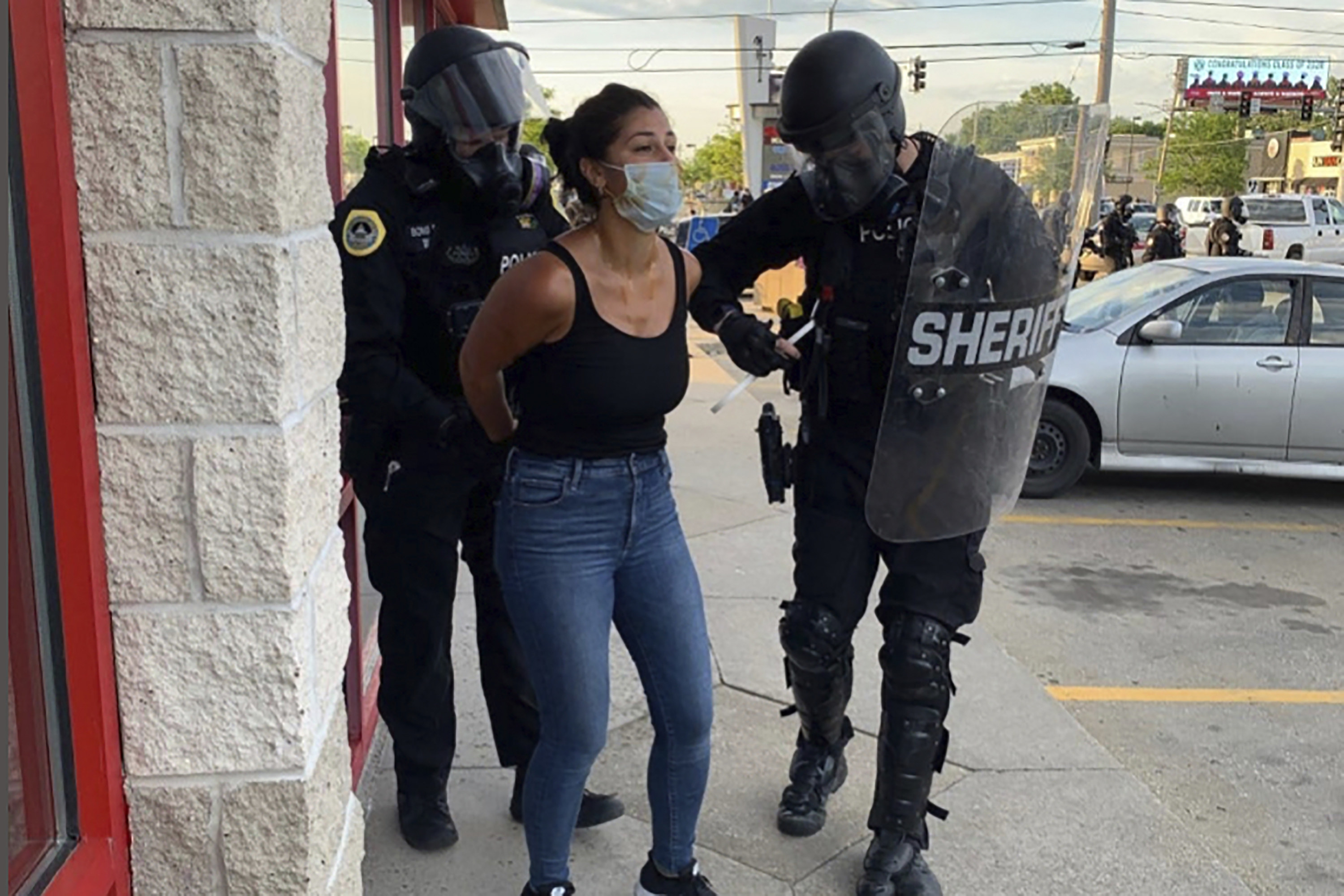 In an editorial published late February, the Des Moines Register called on Polk County Attorney John Sarcone to dismiss the charges against Sahouri.
"When reporters are arrested, assaulted or otherwise prevented from doing their jobs, it's not an attack on just a single journalist or a media company," the editorial board said. "It's an attack on everyone's rights to be informed and to hold those in power accountable for their actions."
The case has also been widely condemned by press freedom and human rights organizations.
"The charges against Andrea Sahouri represent a clear violation of press freedom and fit a disturbing pattern of abuses against journalists by police in the USA. It's deeply troubling that the prosecutor would push these bogus charges all the way to trial," Erika Guevara-Rosas, the Americas director at Amnesty International, said in a statement.
The Iowa Freedom of Information Council also sent a letter to Polk County prosecutors in July, urging them to drop the charges against Sahouri.
"When an officer or government official knows a person is a journalist, an arrest and prosecution based on lawful newsgathering activity is a profound and clear violation of the First Amendment," stated the letter, to which roughly 150 entities, including NAACP branches, news outlets, and lawyers, cosigned.
Reporters across the country have been similarly targeted while covering the protests against racial injustice and police violence. The US Press Freedom Tracker documented hundreds of attacks against journalists last year and more than 100 arrests and criminal charges of members of the media who were on the job.