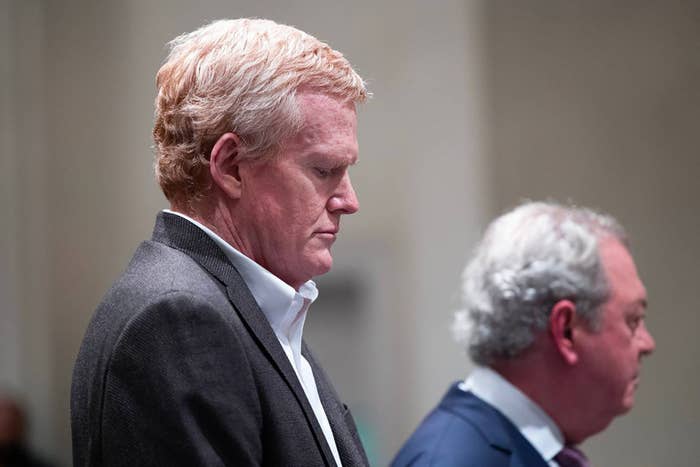 A member of the jury in Alex Murdaugh's murder case said it only took them about an hour of deliberation to decide that the disgraced South Carolina lawyer was guilty of killing his wife and son.
"The evidence was clear," Craig Moyer, a carpenter who served as a juror on the high-profile case, told Good Morning America in an interview that aired on Friday before the sentencing.
On Thursday evening, a jury convicted Murdaugh of murdering his wife Maggie and son Paul at the family's rural hunting lodge's dog kennels in June 2021. He was handed two consecutive life in prison sentences on Friday morning. Throughout the trial and even at his sentencing hearing, Murdaugh asserted that he did not murder his wife and son. But the jury was ultimately not convinced.
Murdaugh's quick answers to questions on the stand and the lies he told that were exposed in court affirmed Moyer's belief that the disgraced lawyer had murdered his wife and son, he said.
"A good liar," Moyer told GMA. "Not good enough."
Murdaugh's sentencing caps a six-week trial that saw 72 witnesses called on to testify, including Murdaugh himself.
The trial seized the nation's attention and shook the small town of Walterboro and the Lowcountry region of South Carolina, where the Murdaughs had been a powerful and influential family. Murdaugh's father, grandfather, and great-grandfather were prominent lawyers; Judge Clifton Newman noted during sentencing that a portrait of Murdaugh's grandfather, which hung in the very courthouse he was convicted in, had to be removed to ensure a fair trial.
A crucial piece of evidence in the case was a Snapchat video taken by Paul at the property's dog kennels, just minutes before he and his mother were killed.
Murdaugh's voice is heard in the video, and multiple people testified that they recognized it as his; Murdaugh himself admitted that it was. The video contradicted his long-held claim that he was not at the scene of the crime that night.
Murdaugh — who told investigators that he struggled with an addiction to prescription painkillers — said he lied about his whereabouts that night because of drug-induced paranoia.
Moyer said he was "very surprised" that Murdaugh admitted to lying about his whereabouts that night. "It was his only savior right there."
When Murdaugh took the stand to testify, he appeared to sob as prosecutors played the Snapchat video. Moyer, however, said that Murdaugh did not shed a single tear during his testimony.
"I didn't see any true remorse or any compassion or anything," Moyer said. "He never cried. All he did was blow snot, no tears."
Moyer said he thought that Murdaugh was guilty from the start.
"If you really look at everything," he said, "it's all plain and clear."
Correction: The town of Walterboro was misspelled in an earlier version of this story.