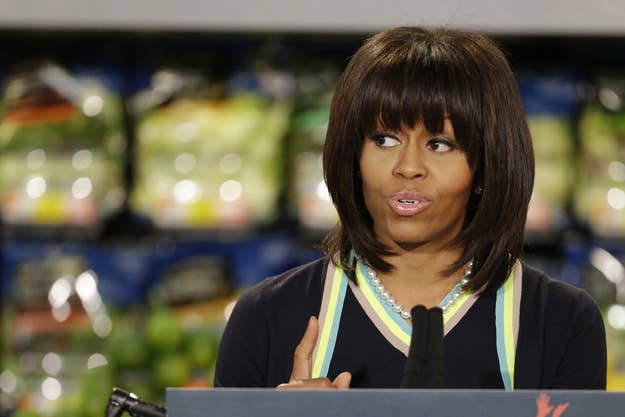 Every time Michelle Obama makes a media appearance to promote her Let's Move! campaign, she opens herself up to criticism from anyone with an internet connection. But despite recent attacks, her kid-focused activism is no more controversial than Nancy Reagan's "Just Say No To Drugs" campaign and far less incendiary than Hillary Clinton's health care reform work.
"It's not a controversial project," said Dr. Myra Gutin, an expert on first ladies at Rider University. "But there is that faction that is very much bothered by it because they feel like it's government intervening in the lives of citizens. To me it doesn't make sense why they're upset. The first lady is just saying it's important to eat better and exercise."
Michelle's work to encourage kids to stay active and eat more fruits and vegetables is as American as apple pie, said Ruth Mandel, Director of Rutgers' Eagleton Institute of Politics.
"Michelle has done her campaign in a way that shows herself and her own family," Mandel said. "They planted a garden. Who could have an argument? It's mom and apple pie. It's mom and healthy vegetables. The way in which it's framed is as far away from anything that could be controversial."
Gutin added that the public is unlikely to see Mrs. Obama comment on her husband's stances on immigration or gun control, partly because it would lower her historically high approval ratings.
"No first ladies want to spend their husband's political capital cleaning up any messes. And I think that's the same for Mrs. Obama," Gutin said. "Her issue is perceived as something the first lady would do. If she began to speak out against management of the war, or immigration or the economy, I think you would see that reflected in her polls."
But that hasn't stopped partisans from leveling broadsides at the First Lady. Every aspect of her life faces scrutiny. Fox television talk show host Bill O'Reilly slammed her brief Academy Awards appearance as "the most propagandistic thing I've ever seen," on Jay Leno's "The Tonight Show."
This morning on Twitter, FLOTUS answered questions about her Let's Move! program from users who labeled their questions #AskFLOTUS.
Mrs. Obama answered questions from users like "Anne D." who asked, "I'm interested in growing a kitchen garden with my 8 year old niece. Do you have any tips?" The first lady respsonded by tweeting, "Start small with something she can manage, like a container garden. Plant what she likes & keep it fun."
Amidst the moms wanting to know where to purchase organic produce and how to get their kids to get off the couch, #AskFLOTUS devolved into an attack on the White House at large.
Conservative Blogger Michelle Malkin's website Twitchy explained and celebrated the "hijack."
"And so it began, kicking off with questions about Benghazi. Yes, once again Twitter users are doing the job that most in the media won't do," a report on Twitchy read.
Hours after the 11:05 a.m. event, Twitter users continued to send questions unrelated to health issues--some commenters asked about the first lady's bangs, her husband's response to the attacks in Benghazi, and the cost of private family vacations.
But Michelle's initiatives alone just aren't that contentious—especially compared to the work of another modern first lady, Hillary Clinton, whose health care reform was at the center of public discussion when her husband was president.
"Clinton was given leadership role by the president that took her into the middle of politics and the controversy of the day," Mandel said. "It was and is very different for a first lady to be in the middle of a stormy discussion about a developing a policy. It would be as if Michelle Obama today took on as her lead issue either immigration reform or gun control."
As first lady, Hillary Clinton chaired the Task Force on National Health Care Reform in 1993, a more official role than other first ladies had taken, and it had consequences.
"The Clintons really expected there was going to be some pushback because they knew national health care was going to be divisive," Gutin said. "And it didn't end well. It did end up hurting the president. In the next election cycle, Democrats lost control of the House."
Clinton's work was so aligned with policy debates of the time that she faced a high level of criticism. She closed sessions of the task force to the public and doctors objected that she was not a government official who could bar them from proceedings. Congress rejected the task force's proposals.
Other first ladies became remembered for their pet projects that hinted at political ties but were generally tame. Nancy Reagan's name basically became synonymous with her "Just Say No" anti-drug abuse campaign. Laura Bush focused on literacy and education, advocating for her husband's No Child Left Behind Act. She launched the "Ready to Read, Ready to Learn" education initiative and the National Book Festival.
Gutin said Michelle Obama's campaign occupies the edge of policy debate, nodding to health care without addressing it directly.
"People will say it's part of Obamacare, but I wouldn't say that," Gutin said. "I think both Obamas are strong proponents of a healthy lifestyle and the connection ends with that."
The loudest voices of criticism have come from kids who want fewer vegetables on their school lunch plates. The implementation of the Healthy, Hunger-Free Kids Act led some school cooks to say the increased health food resulted in more food waste. A Jewish newspaper said that lunches with more spinach, kale and cabbage might not be kosher, because tiny bugs could be found in the leafy greens. Another complaint has been that the Let's Move! Campaign events have been chaotic and too crowded.
Mrs. Obama has made frequent media appearances to promote her campaign. Last week, she chatted via a Google Hangout, speaking about vegetables, exercise and children's body image. She busted out her "mom moves" with Jimmy Fallon and filmed a public service announcement with Big Bird to encourage kids to eat well and stay active.
"I teach communication and we always talk about the fact that you're anonymous on Twitter," Gutin said. "People can take shots at her. And maybe they want to start controversy, but really there isn't any. It's hard to be critical of what she's done with food. It's been successful."
Even if Obama's issue isn't as controversial as health care or immigration, her name will likely be tied to kid's health long after her husband finishes his term.
"As with anybody's legacy, time will tell," Mandel said. "She still has more than three years. Other first ladies in recent history have been successful in having the issue they care about identified with them long after they're in the White House."