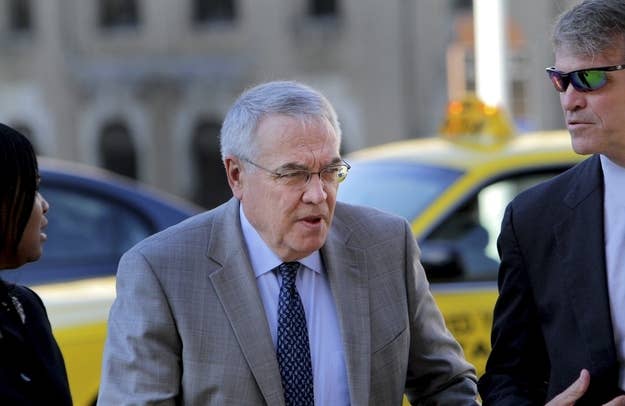 A prominent Democratic fundraiser and progressive media executive is coming under fire from some shareholders for his company's dealings with the National Rifle Association.
Leo Hindery is a managing partner at InterMedia Partners LP and who has donated millions to Democratic campaigns, and was the top fundraiser for John Edwards' 2008 presidential campaign. InterMedia owns Sportsman Channel, a hunting and fishing channel that frequently hosts NRA executives and is now in the process of merging with Outdoor Channel, a traditionally "agnostic" source when it comes to the gun debate, which instead focuses programming on the lifestyles of hunters and fishermen.
An Outdoor Channel shareholder who opposes the merger told BuzzFeed Hindery should actually be crowned the "number one media tycoon of the pro-gun lobby."
"This is an inherent conflict between his political and business relationships," said Andrew Franklin, a shareholder of the Outdoor Channel. Franklin is working with fellow shareholders to prevent the merger by pointing out Hindery's apparent conflict of interest.
Franklin said he and other Outdoor Channel shareholders are upset that they might be forced to take on Sportsman Channel stock, which he sees as contrary to Outdoor Channel's message and Hindery's own political leanings alike.
"I'm forced to be a stockholder in this thing that is a bad thing," Franklin said.
Franklin said that should the merger move forward, the Outdoor Channel's programming could change to see more political-tinged content. The shareholders will vote on the merger March 13.
"There's a really high level of inconsistency with Hindery's political views," Franklin said. "How can you take revenue from the NRA and gun sponsors and contribute aggressively to Cuomo and Edwards, who are crusading against the organizations that pay him?"
Hindery's media group is working on a deal to merge his NRA-backed Sportsman Channel with the Outdoor Channel. The Outdoor Channel focuses on the lifestyle of hunting and fishing, and tends to steer clear of the political back-and-forth on guns. Sportsman Channel, on the other hand, steeps itself in political debate. The channel regularly features interviews with NRA executives, even broadcasting live, with no commercial interruptions, NRA Executive VP Wayne LaPierre's response to President Barack Obama's 2013 State of the Union Address.
"If you look at Hindery's Twitter, he's a self-described progressive policy wonk," Franklin said. "He blogs on HuffPo. He was Edwards' campaign fundraiser and then jumped on Obama campaign. So he's very much an activist and he's a proud activist."
Steve Sigmund, a spokesman for Hindery, said Hindery "declines comment" on the accusations.