The use of drones by the CIA and organizations in the United Kingdom and Israel represents a new era of warfare — without countries ever declaring war. The CIA program uses unmanned vehicles to target and kill high-profile members of terrorist organizations, chosen from a "kill list" by the CIA and President Barack Obama. More than 50 countries have access to drone technology.
Up to 120 people died in attacks during the first month of 2013.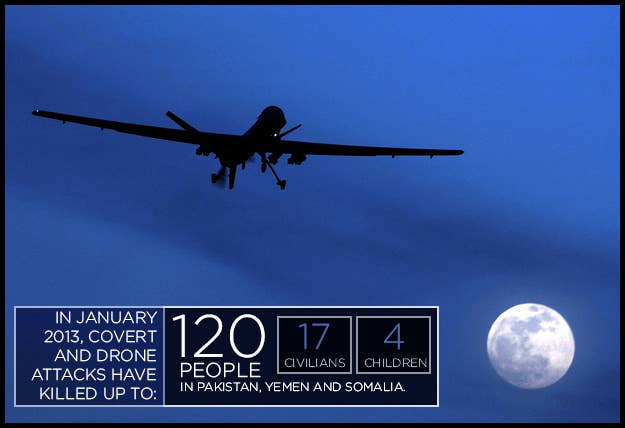 In the first month of 2013 alone, there were 15 covert operations — most including unmanned artillery vehicles or drones — in Yemen, Somalia, and Pakistan that have killed up to 120 people. Those figures include nearly 20 civilians and up to four children, according to the Bureau of Investigative Journalism.
Civilians are often the casualty of mistakes and mishits. In the 362 strikes in Pakistan from 2004 to 2013, nearly 900 civilians have been reported killed, which includes 176 children. The drone program (which spares pilots from risk) is Obama's weapon of choice as deployed troop numbers decrease.
"If the level of threat doesn't go down and the U.S. military presence in the world is dropping, it's going to lead to even more drone strikes," said Daniel Gouré, vice president of the Lexington Institute and an expert in national security and defense. "It shows the necessity of getting some rules of the road because drone use is only going to get bigger, badder, and more frequent."
More than 50 countries have access to drone technology — and the UN is worried.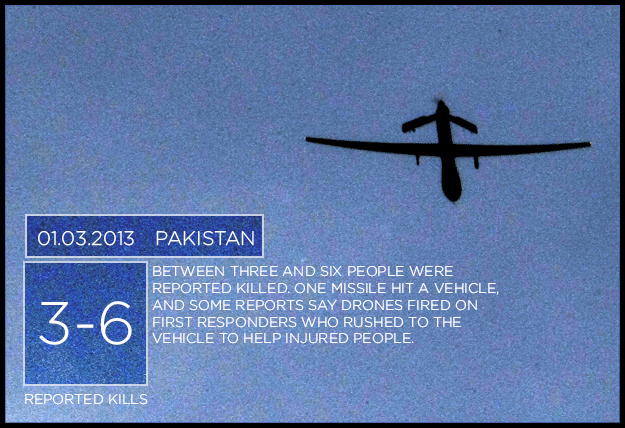 On Jan. 23, the United Nations launched an investigation into the civilian impact and human rights implications of targeting killings, many with the assistance of drones. The researchers will look at 25 specific cases, based on their instances of civilian casualty and the availability of evidence beyond press reports, said Ben Emmerson, U.N. special rapporteur on human rights and counterterrorism.
The U.N. investigation will examine photographs, original witness statements, satellite images, and forensic evidence to detail the instances of civilian casualties from drone strikes, Emmerson said.
Emmerson plans to present his findings, conclusions, and recommendations for creating legislation in October to the U.N. General Assembly in New York.
There's a guy who tweets every single drone strike, and it's exhausting.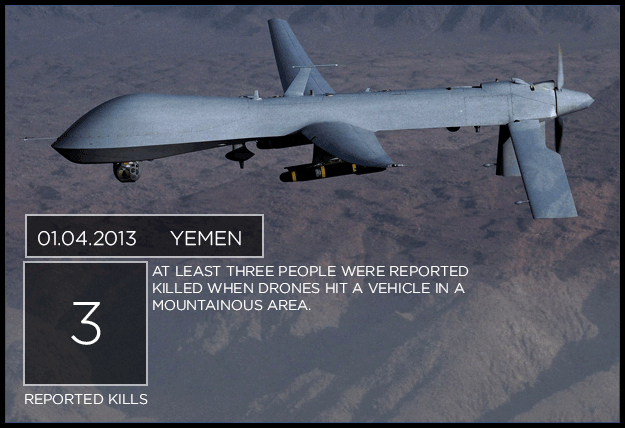 New York University grad student Josh Begley started a Twitter account, @dronestream, that tweets narrative details of every single drone strike recorded by the Bureau of Investigative Journalism since 2002. When he started the project in December, he thought he could tweet the stories of every drone strike in 10 minutes. He's been tweeting every day — between classes, during classes, at night — since then, and he's only in June 2011.

Begley at first wanted to create an app that would send push notifications to subscribers' phones. Apple rejected his app three times.
"I've been kicking out different iterations of it for a while," he said. "It started with the idea of a push notification. What if we got notified in real time when a drone strike happened? And the question is, do we want to be interrupted by this?"

The immense archives from the Bureau of Investigative Journalism have been his primary source. Begley reads news reports to put together a brief narrative of each drone strike.
"Data is how I have been narrating these strikes, but at the end of the day it's about people," Begley said. "It's one thing to hear that seven people were killed, but it's another thing when their names were reported or there are pictures or stories of them."