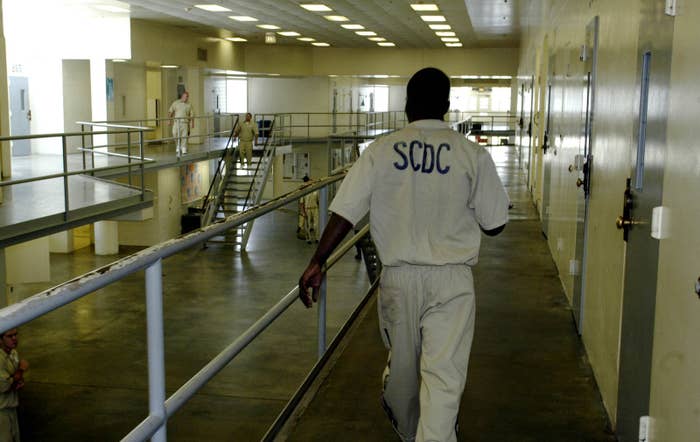 Seven inmates in a South Carolina prison were punished with a combined total of nearly 20 years of solitary confinement — for making a rap music video and posting it on WorldStar.
The investigation into the rap video and the punishment were revealed in public records obtained by Dave Maass, an investigative researcher at the Electronic Frontier Foundation.
Last year, the South Carolina Department of Corrections (SCDC) launched an investigation after the group of inmates released a rap video that made its way to WorldStarHipHop:

Records show five of the inmates received 180 days in "disciplinary detention," while two others received punishments of 270 and 360 days, for "creating or assisting with a social media site."
But additional punishments for "security threat group" (gang-related) materials and possessing a contraband cell phone added up to a combined 7,150 days, or 19.75 years, in solitary confinement for the inmates.
The inmates also lost years' worth of canteen, phone, and visitation privileges, as well as good time accrued.

The disciplinary records note that "video from www.worldstarhiphop.com was used as evidence."
"When the video went viral the first time, viewers caught a fleeting glimpse of the creative energy that exists behind bars," Maass told BuzzFeed News. "Now that we know how dearly each inmate paid for their participation, the video takes on all new significance. People in this country are still sacrificing their freedom and well-being for expression."
The South Carolina Department of Corrections (SCDC) came under fire earlier this year after the Electronic Frontier Foundation, a nonprofit digital rights group, obtained public records showing that corrections officials punished inmates with dozens of years in solitary confinement for using Facebook and other social media.

For example, Tyheem Henry received 13,680 days, or more than 37 years, in disciplinary detention in October 2013 — as well as more than 74 years' worth of telephone, visitation, and canteen privileges — for 38 posts on Facebook.
Space constraints often lead to those punishments being suspended or lessened, though. According to the EFF, for the inmates it reviewed the average time served in solitary was 512 days.
In February, the SCDC announced it was changing its policy for solitary confinement, making 60 days the maximum punishment in solitary confinement for an infraction. It also stopped making each post on social media an individual infraction.
However, Stephanie Givens, a spokesperson for the SCDC, said the inmates' punishments were reviewed and found to be appropriate.
"Their placement is not just tied to that rap video," Stephanie Givens, a spokesperson for the SCDC, told BuzzFeed News. "It's the fact that they are gang members and a continued threat to safety."
The seven inmates are serving time for a variety of serious crimes, such as armed robbery, burglary, and voluntary manslaughter.
David Fathi, the director of the ACLU's National Prison Project, said the punishment of the seven inmates raised First Amendment questions.

"It's hard to believe that South Carolina prison officials don't have better things to do than troll the internet looking for prison videos," Fathi told BuzzFeed News.

While Fathi said that it's clear that inmates can be punished for contraband materials, and that prison officials can limit inmate's speech for security purposes, the inmates' punishments are "disturbing to the extent that prisoners are being punished for pure speech that's posted on the internet."
"They're finding them guilty of a separate violations of creating or assisting with social networking site," he continued. "That seems like a First Amendment violation on its face."
The ACLU and many other human rights groups also oppose the use of extended solitary confinement as punishment.
"The more we learn about solitary confinement, the more we know how profoundly damaging it is to physical and mental health," Fathi said, noting that a United Nations expert on torture has called for solitary confinement over 15 days to be completely abolished. "We know there are measurable changes in the brain after seven days in isolation. A year or six months is grossly excessive."
However, Bryan Stirling, the director of the SCDC, said that allowing prisoners to have access to social media can be a grave security threat.
"We have to look no further than our own S.C. corrections officer, Captain Johnson, who was shot six times in his home due to an attempted contract killing via a contraband cellphone," Stirling said earlier this year. "We take the use of contraband cellphones and social media by inmates very seriously, and the punishments for using them are severe. We are no different from any other corrections department across the country dealing with this issue."
The SCDC estimated earlier this year that roughly 1,400 state prisoners remain in solitary confinement for disciplinary infractions, down from 1,700 last year. That's about 6.5% of its inmate population.
CORRECTION
The seven South Carolina inmates received a combined total of nearly 20 years in solitary confinement for infractions related to creating a music video. An earlier version of this story said they received only a combined four years.