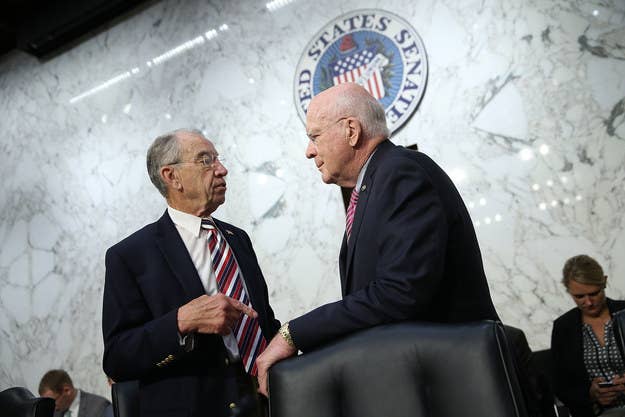 WASHINGTON — A bipartisan group of senators has reached a deal on a long-awaited criminal justice bill that would reduce some mandatory minimum sentences and give federal judges more flexibility in sentencing.
In a press conference Thursday morning, seven Republican and Democratic senators released details of the Criminal Justice Reform and Corrections Act of 2015 — the result of months of negotiations and several years of growing bipartisan consensus around the issue.
The bill does not eliminate any mandatory minimum sentences, as many criminal justice advocates had hoped for, and in fact adds a couple new ones, but it includes several measures that supporters say will nonetheless ease some of the most punitive laws passed during the tough-on-crime heyday of the 1980s and '90s.
"People can always point to things they'd rather have in a bill," Sen. Mike Lee of Utah, one of the key Republican lawmakers involved in the bill, told BuzzFeed News. "This reflects changes that are positive, strong steps in the right direction. I think they will make all the difference in the world to those to whom the laws will apply."
Other senators involved in crafting the legislation include Illinois Democrat Dick Durbin, Texas Republican John Cornyn, Rhode Island Democrat Sheldon Whitehouse, North Carolina Republican Lindsey Graham, New York Democrat Chuck Schumer, and New Jersey Democrat Cory Booker.
Most significantly, the bill secured the support of Chuck Grassley, the chairman of the Senate Judiciary Committee, a conservative law-and-order Republican who is considered by advocacy groups to be the biggest hurdle facing any broad criminal justice reforms in the Senate.
The bill would reduce enhanced mandatory-minimum penalties for repeat drug offenders without serious violent felonies, dropping the mandatory guideline from life in prison to 25 years, as well as broaden the "safety valve" exception to federal mandatory minimum sentences. It would also create a second safety valve for certain low-level offenders facing 10-year mandatory minimum sentences.
The bill would also make the Fair Sentencing Act, which reduced the sentencing disparity between crack and powder cocaine offenses, apply retroactively — a change that could impact the sentences of thousands of federal prisoners serving mandatory minimum sentences.
"It looks like the reforms are going to be meaningful and certainly address some of the worst-of-the-worst mandatory minimum gun and drug sentences," Molly Gill, the government affairs counsel for Families Against Mandatory Minimums, told BuzzFeed News.
"It doesn't go nearly as far as FAMM would like in that it doesn't eliminate any mandatory minimums," Gill said. "With that caveat, it does appear to give judges more flexibility and broaden the safety valve. The current safety valve is pretty strict, so this seems to let more people benefit, and that's a positive thing."
The bill also includes significant portions of earlier legislation crafted by Whitehouse and Cornyn aimed at decreasing crowding in federal prisons, which are currently operating at 30 percent over capacity. The legislation would allow low or medium-risk prisoners to earn earlier releases by completing anti-recidivism programs.
Other provisions in the legislation include limiting solitary confinement for juveniles in federal custody, allowing juvenile offenders to petition for a reduced sentence after serving more than 20 years in prison, and providing for compassionate release for inmates who have served two-thirds of their sentence, are more than 60 years old, and are terminally ill.
Negotiations over the bill in the Senate have been ongoing for much of this year between a core group of "smart-on-crime" Republicans and progressive Democrats.
"This is an issue that I've been wanting to address ever since I got in the Senate," Lee said.
Lee related a story, one he often tells, about his time as assistant U.S. attorney, where he witnessed a man in his mid-20s get sentenced to 55 years in prison under inflexible mandatory-minimum guidelines for selling marijuana three times to an undercover officer.
"I don't mean to condone what he did, but I've never met anyone who thought a 55-year sentence was appropriate in that case," Lee said. "He's going to be in jail until he's 80."
Lee and the other senators' efforts were backed by the White House, which has made criminal justice one of its top issues during President Obama's second term, and top Justice Department officials. A broad coalition of conservative and liberal organizations, ranging from the Center for American Progress to Koch Industries, also have thrown their weight behind trying to get a bill passed in Congress this term.
The question was whether Grassley would balk at the demands to cut mandatory minimums, and whether progressives would stomach any new tough-on-crime measures he demanded.
Grassley appears to have mostly stood firm. The bill would add new mandatory minimum sentences for interstate domestic abuse and providing support for terrorists, while strengthening penalties for certain other crimes.
But the other provisions reducing mandatory minimums seem to be strong enough to keep the delicate bipartisan coalition together. Democrat Sen. Patrick Leahy, the former chair of the Senate Judiciary Committee, has in the past steadfastly voted against bills that created any new mandatory minimums, but an aide said he supports the new legislation as well.
It's unclear, however, if Congress will have the time or will to take up the bill in the final months of the year.
"The clock is ticking, and we hope Congress acts before the end of the year," Gill said.
In the House, Virginia Democratic Rep. Bobby Scott and Republican Rep. James Sensenbrenner of Wisconsin have introduced their own criminal justice bill, the SAFE Justice Act.
Lee, though, is optimistic, pointing to the large amount of bipartisan support and the crucial pickup of Grassley. "Nothing is easy to move through Congress," he said. "That said, I think we're in really good shape on this one."