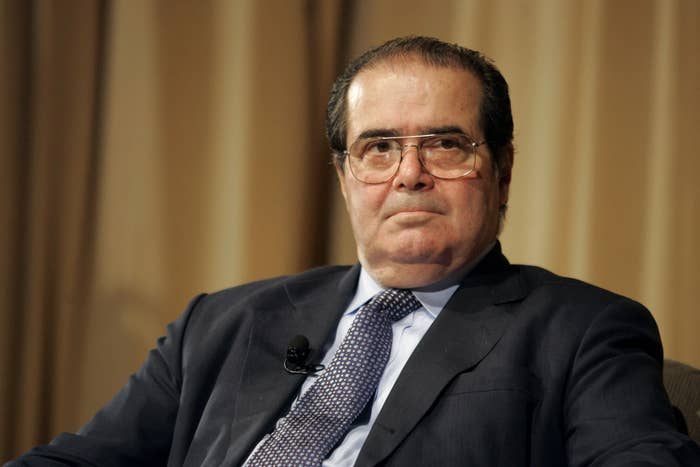 Democratic and Republican presidential campaigns alike mourned death of Supreme Court Justice Antonin Scalia Saturday.
Scalia, 79, reportedly died in his sleep in Texas. Appointed by Ronald Reagan, Scalia was one of the most conservative members of the Court.
Hillary Clinton said Scalia "was a dedicated public servant" and said Republicans "dishonored our Constitution" with calls to keep Scalia's seat vacant for the rest of Obama's term.
Ted Cruz said Scalia was "one of the greatest Justices in history."
"As liberals and conservatives alike would agree, through his powerful and persuasive opinions, Justice Scalia fundamentally changed how courts interpret the Constitution and statutes, returning the focus to the original meaning of the text after decades of judicial activism," Cruz said in statement. "And he authored some of the most important decisions ever, including District of Columbia v. Heller, which recognized our fundamental right under the Second Amendment to keep and bear arms. He was an unrelenting defender of religious liberty, free speech, federalism, the constitutional separation of powers, and private property rights. All liberty-loving Americans should be in mourning."
Democrat candidate Bernie Sanders said in a campaign statement that, "While I differed with Justice Scalia's views and jurisprudence, he was a brilliant, colorful and outspoken member of the Supreme Court."
Marco Rubio said "our nation has suffered a deep loss."
"Justice Scalia was one of the most consequential Americans in our history and a brilliant legal mind who served with only one objective: to interpret and defend the Constitution as written," the Rubio campaign said in a statement. "One of the greatest honors in my life was to attend oral arguments during Town of Greece v. Galloway and see Justice Scalia eloquently defend religious freedom. I will hold that memory forever. The next president must nominate a justice who will continue Justice Scalia's unwavering belief in the founding principles that we hold dear. Jeanette and I mourn the loss of Justice Scalia, and our thoughts and prayers are with his wife Maureen and his family."
Republican frontrunner Donald Trump called Scalia "a brilliant Supreme Court Justice, one of the best of all time.
"His career was defined by his reverence for the Constitution and his legacy of protecting Americans' most cherished freedoms," Trump said in a statement. "He was a Justice who did not believe in legislating from the bench and he is a person whom I held in the highest regard and will always greatly respect his intelligence and conviction to uphold the Constitution of our country. My thoughts and prayers are with his family during this time."
Trump also tweeted:
Jeb Bush said he prayed for Scalia at Mass and called the justice "a brilliant defender of the rule of law."
"Today we lost a great man whose principled service left our nation vastly better off," Bush said in a statement. "This afternoon at Mass, Columba and I prayed for Justice Scalia, who was devout in faith and has been brought home to God in heaven. Our prayers are also with his wife, Maureen, his children and his 28 grandchildren."
Bush called Scalia "a brilliant defender of the rule of law—his logic and wit were unparalleled, and his decisions were models of clarity and good sense."
"Now it is up to all of us to fight for the principles Justice Scalia espoused and carry forth his legacy," Bush said.
Ben Carson called for the GOP-controlled Senate to block any of Obama's Supreme Court nominees for the remainder of his presidency.
In a campaign statement, Carson said it is "imperative that the Senate not allow President Obama to diminish Justice Scalia's legacy by trying to nominate an individual who would carry on the President's wishes to subvert the will of the people."
"Given the dire condition our democracy currently finds itself under Obama's lack of leadership, I call on the Senate to stop any attempts to fill this crucial seat until We The People elect a strong Constitutionalist this November," he continued.
Carson said Scalia's "towering intellect and trenchant wit has characterized the deliberations and decisions of the high court. He made Americans proud, not only because he gave to the court the power and persuasion of his brilliant legal mind, but because he defended the Constitution with an unshakeable commitment to the text and to the intent of the Founders."