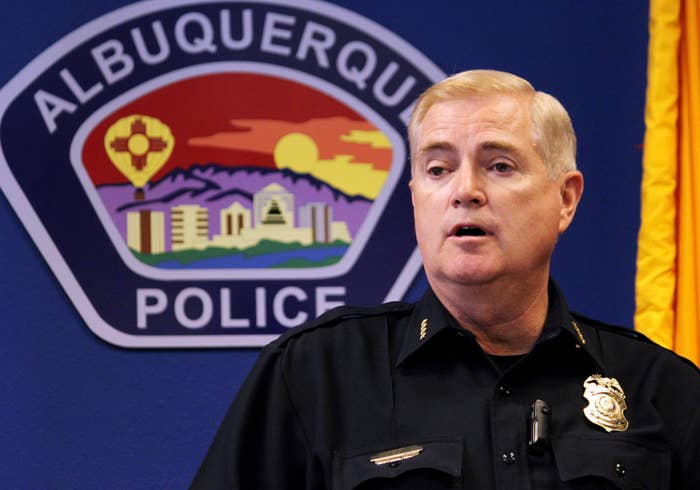 Two New Mexico state senators are suing Albuquerque after the city has refused to stop seizing residents' cars, despite a law passed earlier this year ending the practice of civil asset forfeiture.
In a lawsuit filed Wednesday, New Mexico state senators Lisa Torraco and Daniel Ivey-Soto said Albuquerque is defying the new law and "has continued to take property using civil forfeiture without requiring that anyone—much less the property owner—be convicted of a crime."
"I have no problem taking property from people who are convicted of crimes," Torraco told BuzzFeed News. "The problem lies in the fact that the city refuses to stop taking property from innocent people."
Under civil asset forfeiture laws, police can seize property — cash, cars, and even houses — if they suspect the property is connected to a crime. The property owners don't have to be convicted of a crime, or in some cases even charged with a crime, for police to seize their property.
The laws were created in the 1980s to combat drug trafficking. However, civil liberties groups say the laws create perverse incentives for police to seize property from average citizens and afford little due process to property owners.
Based on such concerns, the New Mexico legislature unanimously passed a bill earlier this year, spearheaded by Torraco and Ivey-Soto, that barred state and local law enforcement from using civil asset forfeiture to seize property, except in large drug trafficking cases, and redirected any forfeiture funds back into the state's general fund.
New Mexico's ban on civil asset forfeiture went into effect in July, but Albuquerque and several other cities in the state have resisted dismantling their programs.
Albuquerque has a particularly aggressive program to seize vehicles from drivers suspected of DWI. According to the Albuquerque Journal, the city has seized 8,369 vehicles and collected more than $8.3 million in forfeiture revenues since 2010.
"Our ordinance is a narrowly-tailored nuisance abatement law to protect the public from dangerous, repeat DWI offenders and the vehicles they use committing DWI offenses, placing innocent citizens' lives and property at risk," city attorney Jessica Hernandez said in a statement to BuzzFeed News. "The ordinance provides defenses to forfeiture to protect innocent owners and has been upheld by the courts."
But the program does not just snare drunk drivers. In many cases, the city seized cars from owners even if someone else was driving it.
"The cases I've seen are usually where parents own a car, their kid goes out and does something stupid, and then the parents end up getting their car seized," Torraco, a practicing attorney, said.
This is backed up by the city as well.
"Half the vehicles (seized) are not owned by the drunks we take them from," said Stan Harada, the chief administrative hearing officer for the city.
The Albuquerque Journal highlighted several such cases where people loaned cars to relatives or friends, only to have their cars seized when the driver was pulled over.
The car owners must then pay $50 for an administrative hearing, plus $10 a day for lot fees for their impounded car. Public defenders aren't available in civil cases. Defendants must then prove their innocence, but in many cases they enter into settlements with the city to pay a minimum fine of $850 in return for their car.
That money then goes to pay for the salaries of prosecutors and police who administer the program. The Albuquerque city council approved a $2.5 million bond to build a bigger parking lot for cars seized under the DWI program. The revenue to pay for the bond will come from the DWI program.
"The profit incentive created by civil forfeiture is so strong, officials charged with upholding the law are now the ones breaking it," said Robert Everett Johnson, a staff attorney for the Institute for Justice, in a press release. "Albuquerque's law enforcement officials seem to think that they are above the law. But if they won't listen to the state legislature, they'll have to answer to a judge."
According to Wednesday's lawsuit, Albuquerque forecasts how many vehicles it will not only seize but sell at auction. The city's 2016 budget estimates it will have 1,200 vehicle seizure hearings, release 350 vehicles under agreements with the property owners, immobilize 600 vehicles, and to sell 625 vehicles at auction.
"How is anyone supposed to believe they're walking into a fair process when the city has already determined how many cars they're going to auction off?" Ivey-Soto told BuzzFeed News.
Wednesday's lawsuit is not the first time Albuquerque's seizure program has been challenged. In 2013, several residents filed a class-action lawsuit against the city.
That year, a state district judge found Albuquerque's forfeiture ordinance unconstitutional because it didn't provide an adequate appeals process, although the state Supreme Court later limited the ruling to apply only to the vehicles in that case.