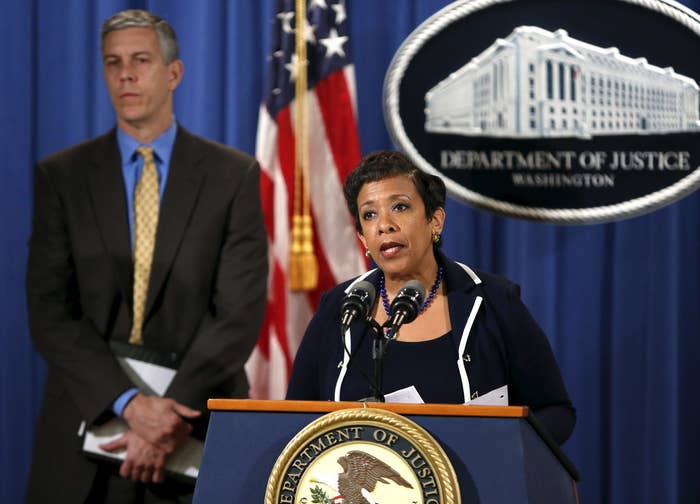 The Justice Department has suspended $1.2 billion in payments of asset forfeiture revenues to police departments across the country, citing budget constraints.
In a letter to state, local, and tribal law enforcement agencies Monday, the Justice Department said it was deferring all future payments from the federal Equitable Sharing Program, which distributes asset forfeiture revenues to hundreds of police departments across the country.
"The Department does not take this step lightly," the letter reads. "We explored every conceivable option that would have enabled us to preserve some form of meaningful equitable sharing while continuing to operate the Program and meet our other fiscal obligations. Unfortunately, the combined effect of the two reductions totaling $1.2 billion made that impossible."

The Equitable Sharing Program allows state and local police, working in conjunction with federal law enforcement, to keep 80% of the proceeds from seized property, while the other 20% goes back into the federal program.
The Justice Department cited budget constraints due to the recently passed appropriations bill in Congress as the reason for the suspension of the program. In the letter, the Justice Department said it hopes "to resume equitable sharing payments at a later date should the budget picture improve."

Under civil asset forfeiture laws, police can seize property connected to a suspected crime — cash, cars, houses, etc. — even if the property owner has not been convicted, or sometimes even charged, with a crime. Police departments began using the practice in the 1980s under the auspices of disrupting drug traffickers and other organized crime.

Civil liberties groups argue the practice of civil asset forfeiture deprives citizens of due process and creates perverse incentives for police to seize property. In light of such claims, as well as a multitude of critical news investigations, several states have restricted police from profiting from the practice.
"Law enforcement revealed that its true interest in forfeiture is policing for profit—not public safety," said Lee McGrath, legislative counsel for the Institute for Justice, said in a statement Wednesday. "The recently enacted Consolidated Appropriations Act does not stop police and prosecutors from chasing criminals. They're frustrated because Congress put on hold their chasing cash."
However, law enforcement organizations say it is a vital tool in their arsenal.
In an email to its members Tuesday obtained by the St. Louis Post-Dispatch, the International Association of Chiefs of Police said: "We want to make clear that neither the IACP, nor any of our law enforcement partners, were consulted regarding this announcement. The position of the IACP is this decision is detrimental to state, local, and tribal law enforcement agencies and the communities they serve."

The National Sheriffs Association also said in a statement Wednesday that Congress and the Obama administration "should be ashamed because this decision will have severe and direct consequences for our communities. While Congress and the President vacation in peace and tranquility, law enforcement knows all too well that the criminals, terrorists, and criminal aliens do not take a holiday. Those seeking to do us harm can rest easier knowing one less tool can be used against them."
The Institute for Justice and other groups argue that the Equitable Sharing Program allowed police to circumvent state laws restricting police departments from funneling asset forfeiture revenues back into their budgets.
"State legislators from Florida to Ohio to California should take notice of law enforcement's reaction to the DOJ's announcement" McGrath said. "Many police, sheriffs and prosecutors want to circumvent state laws because outsourcing forfeiture litigation to the federal government is lucrative."
In January, former U.S. Attorney General Eric Holder announced new restrictions on the equitable sharing program.