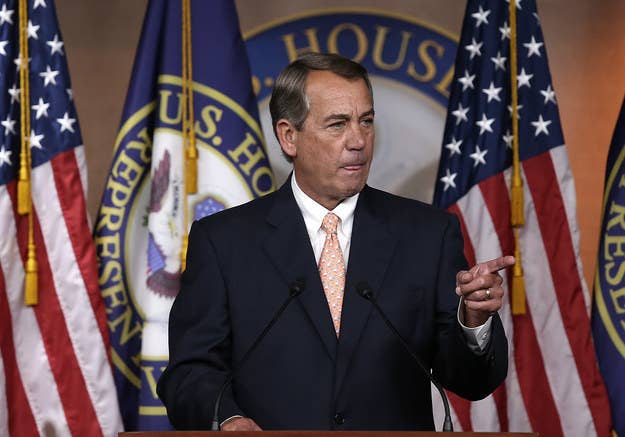 House Speaker John Boehner said Thursday he supports a bipartisan bill currently making its way through the House that would, among other things, lower mandatory minimum sentences for non-violent drug offenders.
The move surprised many long-time reform advocates and provides a sudden path forward for the legislation.
Responding to a question at a press conference, Boehner said he'd "absolutely" like to see the he Safe, Accountable, Fair, and Effective (SAFE) Justice Act, a bipartisan bill introduced by Reps. Jim Sensenbrenner and Bobby Scott, make it to the House floor for a vote.
"I've long believed there needed to be reform of our criminal justice system [...] I'd like to see it on the floor," Boehner said.
"We've got a lot of people in prison, frankly, that don't really in my view need to be there," Boehner continued. "It's expensive to house. Some of these people are in there for what I'll call flimsy reasons."
The unexpected endorsement thrilled criminal justice advocates, who have watched several similar bills get introduced in Congress in recent years, only to see them languish in legislative purgatory.
Van Jones, a co-founder of the bipartisan criminal justice advocacy group #Cut50, said he wasn't aware of anyone in the movement getting a heads up about Boehner's support for the bill.
"John Boehner just said he's going to support criminal justice reform with a vote in the House, which was unthinkable, unthinkable, six months ago. That is unbelievable," Jones said in a phone interview with BuzzFeed News. "The president of the United States leading on criminal justice and John Boehner has call and response for him from the White House to the House. That is the best news, that is bigger news for the black community than 2008. I'm feeling pretty daggum good."
A top conservative criminal justice advocate was just as pleasantly surprised by the news Boehner had backed the bipartisan criminal justice bill.
"Luke Russert tweeting that Speaker Boehner is in favor of the Safe Justice act," the advocate wrote during an email exchange on a separate topic. "That is huge."