Virginia GOP Chairman's Interview Over Primary Pledge Gets Heated
"We're not targeting any particular campaign. That's ridiculous, absurd, and it's beneath you to say it. It's beneath you to say it."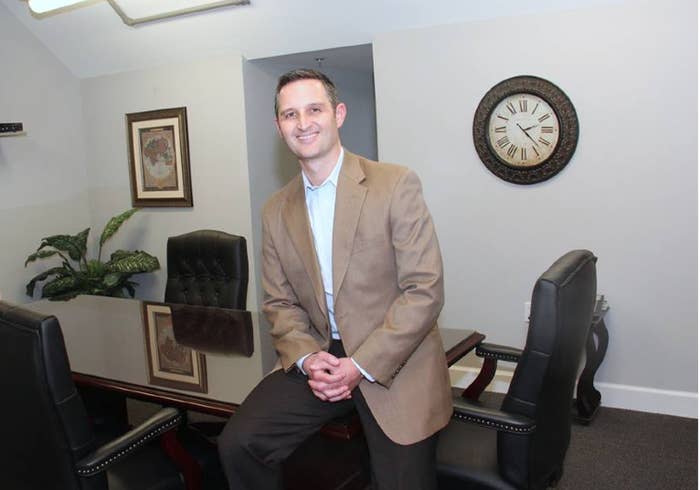 Republican Party of Virginia chairman John Whitbeck last week pushed back hard against the notion that the state GOP is trying to sabotage Donald Trump's presidential campaign by demanding that primary voters sign a statement saying they are Republicans.
"You keep going back to this notion that somehow this is about one campaign or one candidate," he told radio host John Fredericks on December 21. "It's not. And the evidence is clear and you know it."
The statement has been the subject of a brewing controversy over the past week, peaking on Sunday, when Donald Trump unleashed a series of tweets bashing the Republican Party of Virginia for requiring those who want to vote on the Republican side of the state's open primary to sign the statement.
In the radio interview, host John Fredericks also lambasted the RPV chairman, saying "the whole thing is designed to stop Trump."
"Oh, come on," Whitbeck replied. "Oh, for crying out loud. You know what? That is most absurd statement that's been made in this entire exchange. That somehow we were targeting one candidate. That's absurd and you know it. Come on. I'm not even going to dignify that with a response."
After being told that he didn't respond "because you don't have a response," Whitbeck said the argument was "ridiculous, absurd, and it's beneath you to say it."
"No, my response is that that's absurd," the chairman said. "You know that's absurd. You know it's absurd, you're just trying to increase the anger of your listeners out there and get them all riled up. You know full well that's absurd. We're not targeting any particular campaign. That's ridiculous, absurd, and it's beneath you to say it. It's beneath you to say it."
Whitbeck also said the Republican Party of Virginia notified all presidential campaigns, including Donald Trump's, by e-mail of its intention to present voters with the statement on September 8th. Whitbeck said that, while the Trump campaign didn't respond, those campaigns that did respond said, "We're fine with this."
On Christmas Eve, however, Fredericks had Trump campaign manager Corey Lewandowski on his show and asked him about the e-mail.
"That's just not accurate," Lewandowski said of the assertion that the Trump campaign had received and not objected to an e-mail about the pledge.
Lewandowski went on to say that the statement would require voters to promise both that they were Republicans and that they would support the party's eventual nominee. He added that the State Board of Elections had changed the initial language of the statement without the knowledge of the Virginia GOP.
"So we've asked them to come back to us with what the final language is going to be," Lewandowski said. "And as of right now, nobody knows what that final language is going to be."
The Republican Party of Virginia did not reply to repeated requests for comment about Lewandowski's claims. The executive director of the Virginia GOP said on December 17 that the statement would read, "My signature below indicates that I am a Republican." The RPV denied that the statement was "an 'oath' or 'pledge' in any way."
In his spat with the RPV chairman, Fredericks, the radio host, was particularly incensed by the possibility that the statement might deter an independent voter or conservative Democrat from voting in the Republican primary.
"Are you kidding me, John?" he asked Whitbeck. "Are you insane?"
"You've come to all of our conventions, you've seen this done a thousand times," Whitbeck replied. "And the only reason you're losing your mind over it because you think that it impacts your candidate disproportionately, which just isn't true."
"To say it was targeting one particular campaign is ridiculous, it's absurd, and there's no way you can back that up with any hard evidence," the chairman continued. "And so I would stop saying it before you look silly."
The interview did end on a pleasant note, however.
"I kicked your butt on this argument, but I'm still gonna vote for your reelection for chairman," the host said.