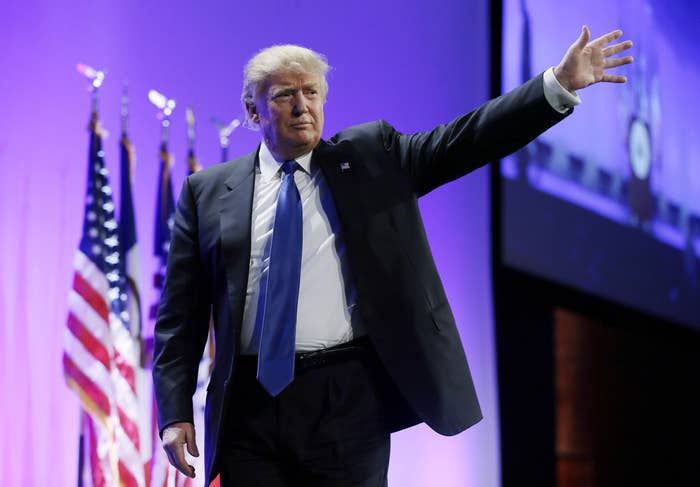 Donald Trump says that his past donations to Democratic politicians were part of his business strategy of being "friendly with everybody" because "you're gonna need things from everybody."
Conservative radio host Howie Carr asked Trump about his donations to the Clinton Foundation, as well as his contributions to other prominent Democrats, such as US Sen. from New York Chuck Schumer, New York Gov. Andrew Cuomo, former New York Gov. Eliot Spitzer, Senate Minority Leader Harry Reid, Secretary of State John Kerry, and former NY Congressman Anthony Weiner.
"Look," he said last Wednesday, "politicians are all talk, they're no action. They don't do the job, they don't know what they're doing. I know them better than anybody, Howie. I deal with all of them. And, you know, I make contributions to many of them. They're friends, they're this. It's smart. It's called being an intelligent person and a great business person.
"But the truth is that, you have to be able to get along with—if you're gonna be a business person, even in the United States, you wanna get along with all sides because you're gonna need things from everybody. And you wanna get along with all sides, it's very important."
Trump said that a lack of Republicans in New York also explains his contributions to Democrats over the years.
"I am a businessman," Trump said. "And when, you know, a Speaker of the House or head of the Senate or, you know, people call, you know, I generally speak. As a businessman, you wanna be friendly with everybody."
"I'm a conservative Republican, but I get along with everybody," he continued. "And I've contributed to people that are Democrats and I've contributed to many people," he said. "Now in New York, you know, when you look at Governor when you look at Mayor, it's very rare that you ever see Republicans in New York. You don't even see them, they're like a—they're like a you know 1% of the vote. It's like a very, very—and I'm not sure exactly what the percentage is but you get very, very little."
Asked whether he'd ever donate to current New York mayor Bill de Blasio, Trump said, "No, and I don't think he'd even ask me. He's super liberal and it would be too much for me. I'm a conservative person, as you know."
Trump went on to say that part of the problem in Washington is that no one talks to each other, especially outside party lines.
"That's by the way, part of the problem that the country has is that nobody talks to each other," he said. "The two sides don't get along, Howie. I mean, they don't talk, they don't meet. They don't--and we have gridlock in Washington. I get along with everybody."