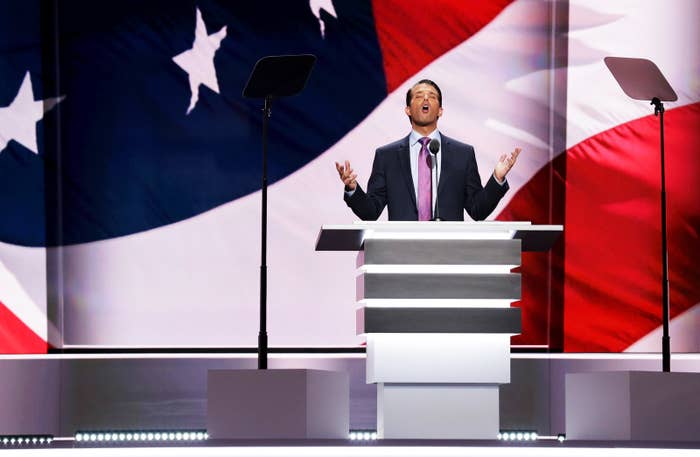 Donald Trump Jr. said on Thursday that people see through Ted Cruz, adding that the Texas senator's speech on Wednesday had inadvertently helped unite Republicans behind his father.
"Listen, I think there was a lot of malignment. I think even from his as well. He plays the angel but that's never been the case. He's pretty good at that. Listen, honestly, I think people have seen through him and if there's one thing this cycle has done it's exposed a lot of that," Trump Jr. told radio host Laura Ingraham.
"If there's one thing Ted did was he united everyone, because they all said 'Oh my god, enough is enough,'" Trump's son added. "You know, look at the alternative. The alternative is Hillary Clinton. Are you crazy? So Ted did the best job of pushing everyone into the camp. If there were any stragglers, I didn't see many, but if there were any stragglers out there, he united them behind my father, so I think he did a phenomenal job."
Trump Jr. also criticized Utah Sen. Mike Lee for his role in calling for a roll call vote prior to Trump's nomination at the convention.
"It was crazy, everyone was into it," Trump Jr. said of the nomination. "There wasn't this divisiveness I keep seeing in the media. You have Mike Lee, Cruz's best friend, he's running around looking for a TV camera, never met a camera he didn't love pulling off his credentials and throwing them onto the floor in dramatic fashion. Then, two second later when the camera turns off he picks up his credentials he runs, tries to find another camera. Like, wait, didn't I just see you do that about fifty yards over there. It's so phony and so ridiculous but it creates a message."