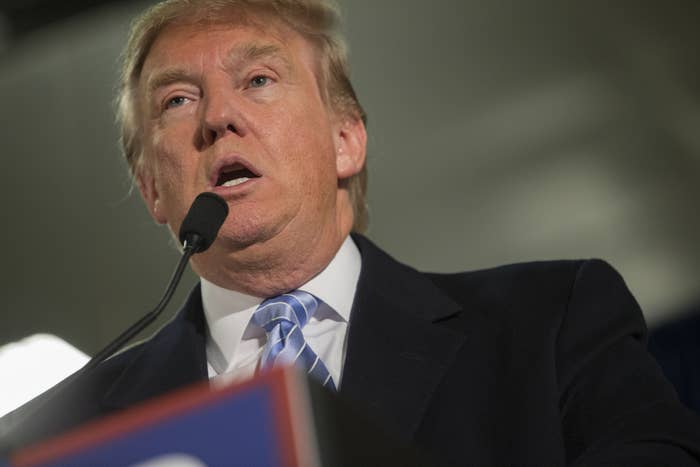 Donald Trump said on Wednesday that Ted Cruz's failure in 2012 to disclose loans from Goldman Sachs and Citibank was "a tremendous sin."
"He's trying to be like he's Robin Hood and the banks, he's gonna get the banks. But in the meantime he's borrowed from the banks, he's personally guaranteed, and he didn't put them on his personal financial disclosure form, which is a tremendous sin," Trump said, inaccurately describing the forms the loans were omitted from. "I mean, that's a horrible thing he did. And he didn't disclose all of this information."
According to the The New York Times, which first reported the omission of the loans last week, Cruz did report the loans in personal financial disclosures filed with the Senate, but did not report them as a source of income for his Senate campaign. Cruz has called the failure to disclose the loans a "technical and inadvertent filing error."
In the interview on The Howie Carr Show, Trump reiterated his case that Cruz, who was born in Canada, should seek to clarify that he is eligible for the presidency, saying "He's got to go to court to take out the doubt, Howie."
And at various points in the conversation the real estate magnate set his sights on Jeb Bush, panning him for his campaign expenditures, calling him a "child," and saying "he's ashamed to use the last name Bush."
"He should give it to the Wounded Warriors and stop wasting his money," Trump said. "And much of it was spent on negative ads on me and then he wonders why I treat him badly. But he's a child. He's a child. And this is the problem. We can't have people like this running our country. China would walk all over Jeb Bush. ISIS would walk all over Jeb Bush."
Trump added later, "He's like a child, he's like a child. And he ought to try using his last name. He's not even proud of his last name. He says Jeb. And he oughta use his last name."
Trump also appeared to defend South Carolina governor Nikki Haley, who criticized the former reality TV star in her rebuttal to President Obama's State of the Union address, calling on Americans to "resist the siren call of the angriest voices," a comment that led Trump supporters and Trump himself to hit back at her, saying she is "weak" on immigration.
But on Wednesday, Trump, who called himself an "angry person" who is "very happy in my life, but I'm very angry about the way our country is being run," said Haley said she understood his anger.
"She understood it and she actually, you know, came out and said, I fully understand it," Trump said. "I've been a supporter of hers and she understood that I'm angry, but it's not just me. I just filled up an arena in Oklahoma."