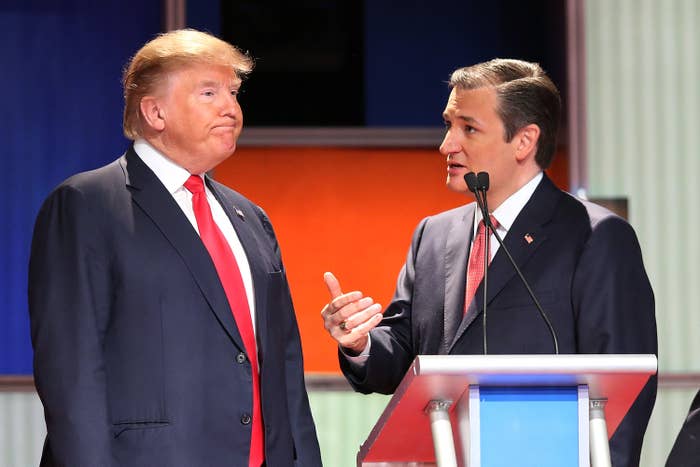 Donald Trump's campaign manager Corey Lewandowski said on Thursday that his candidate would be "happy" to debate Ted Cruz once the Texas senator gets a federal judge to rule him eligible to run for president.
"Once you've gotten that ruling from the federal judge and you're the last man standing in this presidential contest next to Donald Trump, we'll be happy to have a debate with you one-on-one, anywhere you want, because that's the way the system works," Lewandowski said. "But, as it stands right now, we don't even know if Ted Cruz is legally eligible to run for president of the United States."
Trump and his supporters have argued that Cruz, who was born in Canada to a U.S. citizen, is not natural born and therefore ineligible to run for president under the Constitution.
Cruz challenged Trump to debate him one-on-one after Trump announced that he would not be attending the Fox News Republican presidential debate Thursday night because of objections to the presence of anchor Megyn Kelly and a statement Fox issued in response to his complaints.
"What this is, is a publicity stunt by Senator Cruz who is continuing to fall in the polls in the state of Iowa," Lewandowski told Boston radio host Jeff Kuhner, before unleashing a slew of attacks at Cruz, arguing that he had used "dark money donors" through his super PAC to offer a donation to charity if Trump agreed to the debate.
"If Ted Cruz were able to disclose the loans that he's taken out from Goldman Sachs and Citi, then maybe he would use his own money for this, but instead he's using super PAC money which I don't even know if he can do legally," Lewandowski said, referring to loans Cruz took out during his 2012 run for Senate that he did not disclose in campaign filings. "And the bottom line is, you know what we've said to Ted Cruz, go into court, seek a declaratory judgment to find out if you're even legally eligible to run for president of the United States."
In the interview, Lewandowski addressed his remark that Megyn Kelly had a "rough couple of days after that last debate" and "would hate to have her go through that again," which some at Fox News interpreted as a threat.
"That's not a threat. It's a factual statement," Lewandowski said. "And the bottom line, was, she did have a rough couple days after the debate because what she did during that first presidential debate was she made sure the debate was about her and not about the candidates who were actually on the stage."
Toward the end of the interview, Lewandowski took another shot at Cruz, this time over Cruz's criticism of Trump's support for eminent domain. Lewandowski said that eminent domain would be required to build the Keystone Pipeline, which Cruz supports.
"The Keystone Pipeline, as you know, starts where Ted Cruz was born, in the country of Canada, and runs right down to where he lives now, in the state of Texas, and eminent domain is an issue that you know what unfortunately, sometimes you need to use it to get projects like that done," Lewandowski said.