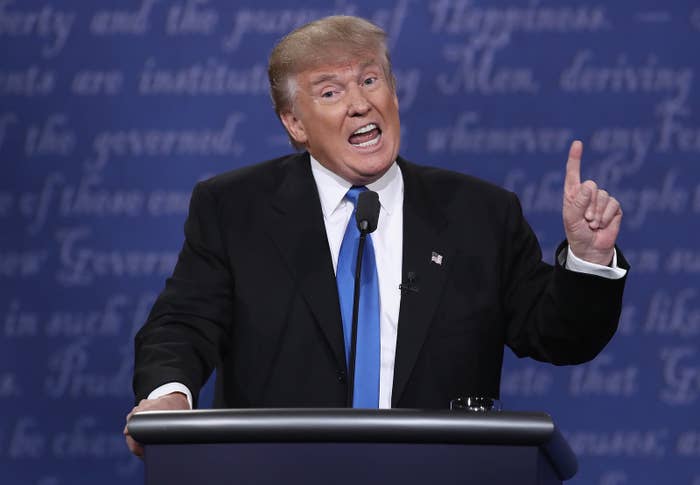 Sam Clovis, the national co-chair of Donald Trump's presidential campaign, said on Monday that he doesn't think it's "anybody's damn business" what private citizens like Trump put in their tax returns.

"And I think, you know, in my view, this is a little bit of the libertarian in me coming out, I don't think it's anybody's damn business what you put in your tax return," Clovis told host Simon Conway on 1040 WHO Iowa radio. "That's between you and the IRS."

Trump has yet to release any tax returns, shirking a tradition for presidential nominees that his opponent Hillary Clinton and his running mate, Mike Pence, have both followed. At last night's debate, Trump repeated his claim that he would release his tax returns when he was done being audited, though there is no law preventing him from doing so while an audit is ongoing. He added that he would release them when Clinton "releases her 33,000 e-mails that have been deleted."
On the radio earlier in the day, Clovis argued that, in addition to the issue of the audit, there is a difference between the controversy over Clinton's emails as secretary of state and Trump's tax returns as a businessman.
"That is a public issue," he said. "She operated as a public official. As a public official that is therefore open to the public domain. Donald Trump is a private citizen who has filed private tax returns, the same as you or me on this issue and as such should be given some deference when it comes to the revealing of that as far as from a privacy perspective."

Clovis also said that another reason to wait to release the tax returns is that the campaign does not want to release inaccurate information.
"The other aspect is, I realize he's running for president of the United States but I think also, we have a responsibility as a campaign to make sure that what we put out, the information we put out is accurate," he said. "And if it is not accurate or if it's leaked out, then that becomes the story as opposed to the fact of the matter that he is worth X billions of dollars, he has X number of projects under way, he has been audited, you know, X numbers of years in a row."