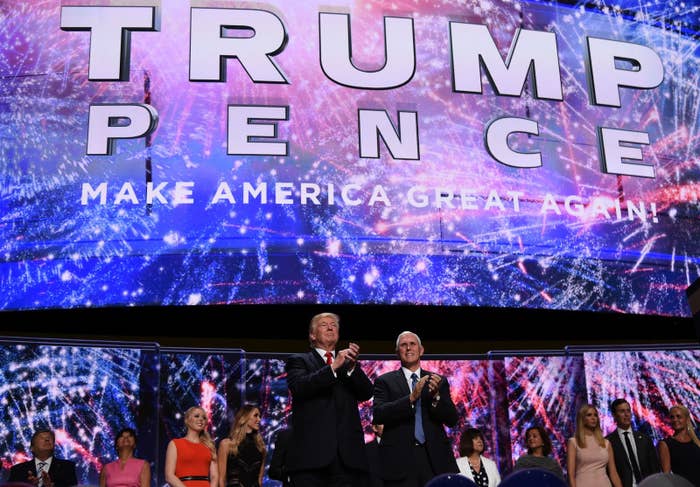 The most prominent leader of America's anti-immigration movement was in a celebratory mood on Thursday night after watching Donald Trump officially accept the Republican party's nomination, giving him a major party presidential candidate with the kind of hardline immigration stance he has been pushing for years.
"I'm surprised it's taken this long," said Roy Beck, the president of NumbersUSA, an organization that seeks a dramatic reduction in both legal and illegal immigration. "But because it's taken this long then I guess it becomes a little more surprising."
For Beck, who has been accused of playing "footsie with extremists" by officials at the Southern Poverty Law Center and whose group has been cited as a leading obstacle to immigration reform by immigration activists, Thursday night marked the culmination of a tumultuous but successful four years. While Latino and immigration groups decried Trump's nomination, Beck told BuzzFeed News that Trump's speech was a "real peak" for his movement.
"There's no question there was a very dark period in November and December of 2012, and January 2013," Beck said of the period after President Obama's reelection. "I mean, you just had the only voices that spoke on this in the media talked about 'inevitability.' It's inevitable that the comprehensive amnesty was gonna pass. And you had the top Republican leaders saying it."
The turning point came when the 2013 immigration bill that passed the Senate stalled in the House. But Beck said it wasn't until this election cycle that Republican leaders and almost the entire Republican presidential field shifted into his camp, opposing proposals like a pathway to citizenship or legal status for undocumented immigrants.
"It wasn't just Trump. I mean, Scott Walker was the one that really got it going and shot up in the polls when he said, I believe that immigration policy ought to, first of all, be what's good for American workers," Beck said. "Then Trump came in and he certainly raised it to another level."
Beck added that he got the most pleasure on Thursday night from hearing the Republican National Committee chairman toe Trump's line on immigration.
"I'll say the most gratifying thing tonight was hearing Reince Priebus and his comment basically aligning the party with the workers on the immigration issue," he said. "It's like, okay, it's not just about the country club."
Beck, who was initially critical of Trump's claims that he would let some undocumented immigrants return to the country based on "merit," still says that he wishes Trump would stop talking about a "wall" and instead refer to the more realistic possibility of building "triple-layer fencing" along the Mexican border. And though he believes that as president Trump would continue to support his current immigration platform, which calls for the deportation of all 11 million undocumented immigrants, he hopes that Trump doesn't try to overhaul the immigration system without the approval of Congress.
But on the whole, he is far more bullish on the GOP nominee than one prominent anti-immigration peer, Mark Krikorian, who told BuzzFeed News on Friday that, though he plans to vote for Trump, he views his nomination as a "double-edged sword."
"It's the first time anybody's aired these issues so I'm glad of that, but it would be nice if we had a different messenger," said Krikorian, who is on vacation in France and didn't watch Trump's speech.
Krikorian plans to vote for Trump because he thinks the alternative, Hillary Clinton, could be "really, really bad for a really long time."
Beck, on the other hand, is so optimistic that he even has hope for Clinton, who supports a pathway to citizenship and an expansion of Obama's executive action on undocumented immigrants.
"I still have hopes that in some ways she's just saying things, that she doesn't really mean everything she's been saying," he said. "I know that's kind of wishful thinking, but I just know that politicians often will say things in the heat of campaigns."