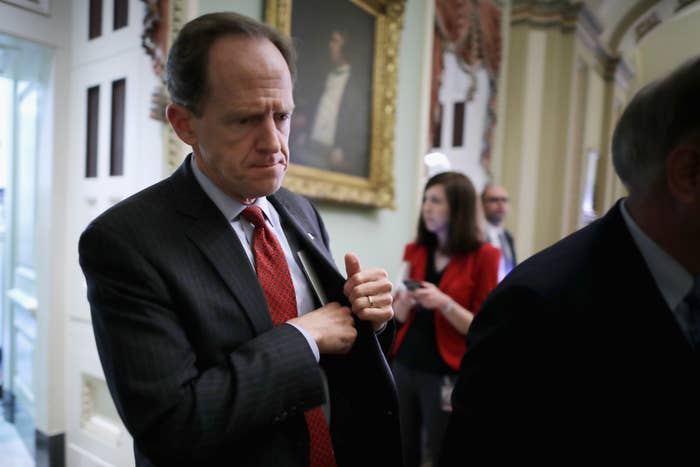 Republican Sen. Pat Toomey, who faces what is expected to be a close race for reelection against Democrat Katie McGinty, has missed over 80% of Senate Budget Committee hearings since 2013, a BuzzFeed News review of hearing transcripts and videos has found.
Toomey, who was appointed to the Senate Committee on the Budget after his election to the Senate in 2010, has touted his spot on the committee as having helped in his efforts to control federal spending. "Pat has used his platform on the Senate Budget Committee to offer several proposals that would balance the federal government's budget," his campaign website reads.
From the start of the 113th Congress in 2013 through last month, Toomey missed 46 out of 57 committee hearings. He missed at least two hearings, in June 2013 and July 2014, when he had fundraisers on the same day. According to the invitations, the fundraisers were both thrown at the Washington, D.C., Indian restaurant Rasika by the National Republican Senate Committee for $500-a-head and up.
On Feb. 3 of this year, Toomey missed a 10 a.m. hearing on "Spending on Unauthorized Programs," but that afternoon appeared on "The Lead" with Jake Tapper to endorse Marco Rubio in the presidential race.
Reached for comment, a spokeswoman for Toomey wrote in an email message that the senator has a 96% voting attendance record and provided a link to an article from the conservative news outlet, NewsMax citing him as number 10 in a list of the "10 Hardest Working Senators in America."
Here are all the hearings Toomey did and didn't attend since 2013: