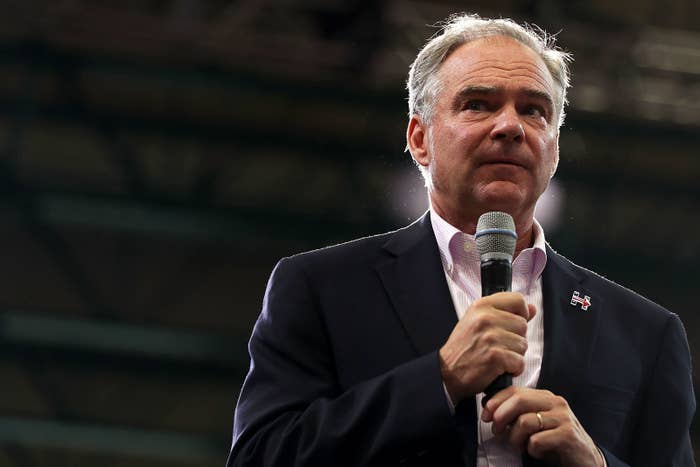 Tim Kaine voted for a city ordinance to ban semi-nude lap-dancing as mayor of Richmond, Virginia in July 1999, city council minutes show.
According to the Richmond Times Dispatch, the ban meant that dancers wearing "pasties and G-strings" on stage had to change into bikinis to give lap dances. The ban supported by Kaine, now Hillary Clinton's running mate, extended a similar, pre-existing prohibition at places that served alcohol to places without alcohol licenses.
"Alcohol, grinding in somebody's lap, that's a recipe for problems," Kaine said at the time, as quoted by the paper.
The ordinance, which passed by a vote of 7-2, also included a provision requiring semi-nude dancers to be on a stage two feet off the floor and at least a foot away from customers. It prevailed after a debate that reportedly included a former dancer — clothed and not making contact with anyone — giving a demonstration of a lap dance. Where one proponent of the rule argued that it would help regulate "perverse sexual behavior," another councilman warned that it could violate the First Amendment, the Times Dispatch said.
For Kaine, whose 2005 gubernatorial campaign included outright appeals to social conservatives, the lap-dancing vote was just one of the several socially conservative stances he took as mayor.
Later the same year, in October, city council minutes show that Kaine voted for an ordinance changing the legal definition of an "Adult Book Store" to mean stores where more than 25% of the material sold was pornographic. According to the Times Dispatch, a city official said that the city drew the line at 25% because it was the lowest figure they were confident the courts would uphold.
In June 2000, the year before Kaine left office, he voted for a resolution calling on the Richmond city manager to "develop and implement an aggressive education campaign to reduce the number of incidents of carnal knowledge with children by educating residents of the City on the danger of pre-marital sex," as well as pre-marital pregnancy.
Clinton's presidential campaign did not reply to a request for comment.
Here are the minutes showing the vote for the lap-dancing rule: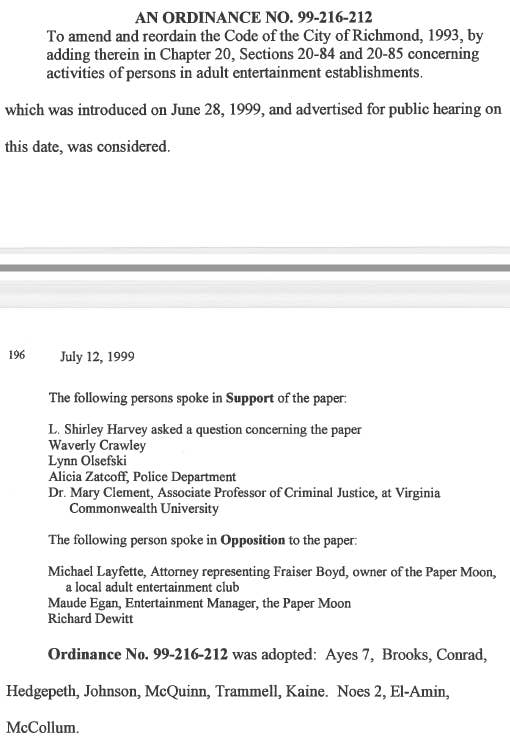 Here are the minutes showing the vote for the "Adult Book Store" rule: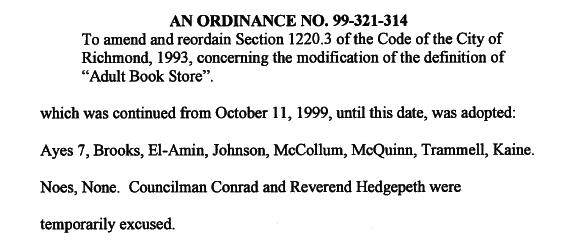 And here are the minutes showing the vote for the resolution: