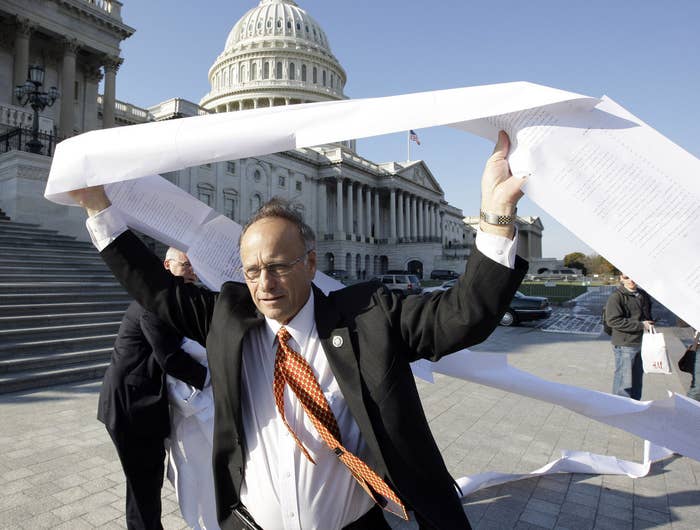 Republican Rep. Steve King of Iowa said on Thursday that if Donald Trump were to release his tax returns, it would probably be more damaging to the presumptive Republican nominee than continuing to withhold them.
Trump said on Friday that voters don't have the right to see his tax returns, arguing that his tax rate was "none of your business." Speaking on the John Gibson Show, King, who supported Ted Cruz in the presidential race, was asked if he thought Trump's position on the issue would hurt him politically.
"My blunt answer to that would be probably not as much as if he released his tax records, John," King said. "And I'm not defending him for that. I think he should release them. I think it should have been available so that during the primary voting process people could evaluate it. I can't imagine that there's good news in there that would help him politically if Donald Trump hasn't released them. He seems to be able to reveal everything that helps him. And there's some of those things that aren't revealed, I'm gonna suspect that they don't help him."
King went on to say he read through the balance sheet Trump produced last year in which he claimed he was worth $8.7 billion as of June 2014. King said what he read raised questions about that claim.
"And so just reading through it caused a lot of questions for me," the Iowa congressman said. "And that, his real net worth that he has said about $3 billion of that is what the Trump brand is worth. I don't know what the King brand is worth but I never put it on a balance sheet. And so I think there's much about finances that could be picked apart by the Democrats and it would've been better to vet that in the Republican primary."
In the interview, King also expressed worry that nominating Trump could hurt Republicans running in senate and congressional races.
"I certainly am," he said, when asked if he was concerned that Trump would have a negative effect. "And I'd characterize it this way. Their coattails are huge. And I think that people underestimate the significance of coattails."
To support this point, King recalled how former Missouri Rep. Todd Akin's 2012 comment that women's bodies can prevent pregnancy in cases of "legitimate rape" damaged both his and Mitt Romney's poll numbers.
"So this presidential race runs very much down-ballot too," King argued. "And I think that if either party has a nominee that just sinks then they lose seats that are swept out with it."