Marco Rubio: U.S. Has No Choice But To Try To Improve Relations With Russia
"We have no choice but to meet with and look for ways to improve the relationship," Rubio said Thursday.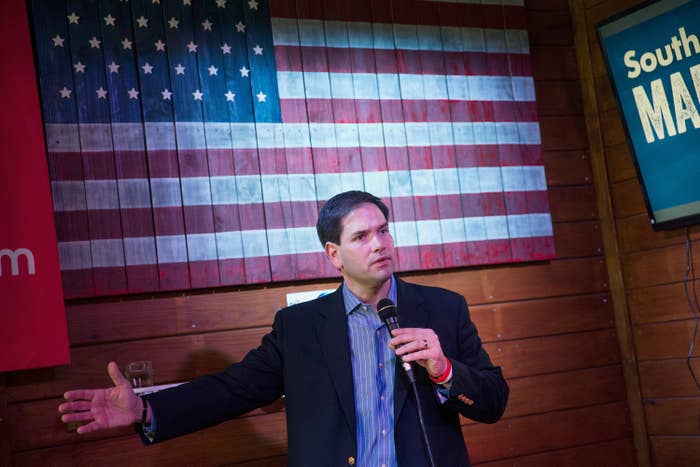 While lodging some harsh criticisms at Russian President Vladimir Putin, presidential candidate Marco Rubio on Thursday also said that the United States has no choice but to meet with Russia and try to improve the relationship between the two countries.
Asked on the radio show New Hampshire Today whether he would meet with Russian President Vladimir Putin as president, Rubio said, "Sure. I mean, look, between the United States and Russia, we have over 90% of the nuclear warheads on the planet, so we have no choice but to meet with and look for ways to improve the relationship. And we have no quarrel with the Russian people. But Vladimir Putin is not just doing damage to our relationship and to the world, he's doing very significant damage to Russia. The Russian economy's in collapse."
Rubio has in the past said that he would diplomatically isolate Russia by excluding them from all talks unrelated to the Ukraine crisis. His position listed on his campaign website is to "cease diplomatic engagement with Moscow on issues not related to resolving the Ukraine crisis." He said the same in a speech in October and in a March 2014 column in the Washington Post, where the Florida senator wrote that Russia "should be removed immediately from every international forum not essential to resolving this crisis, including the Group of Eight."
Rubio repeatedly refers to Putin as a "gangster" and a "thug," a theme he returned to on the radio on the Thursday.
"Vladimir Putin is a gangster. He's an organized crime figure that happens to be the head of state," Rubio said, before bringing up a story that broke this morning about a British inquiry into the death of a former K.G.B. officer. The inquiry concluded that Putin "probably approved" the man's poisoning.