Rick Perry Praises Cruz, Rips Trump And Rubio In Iowa Radio Interview
Hello from the other siiide...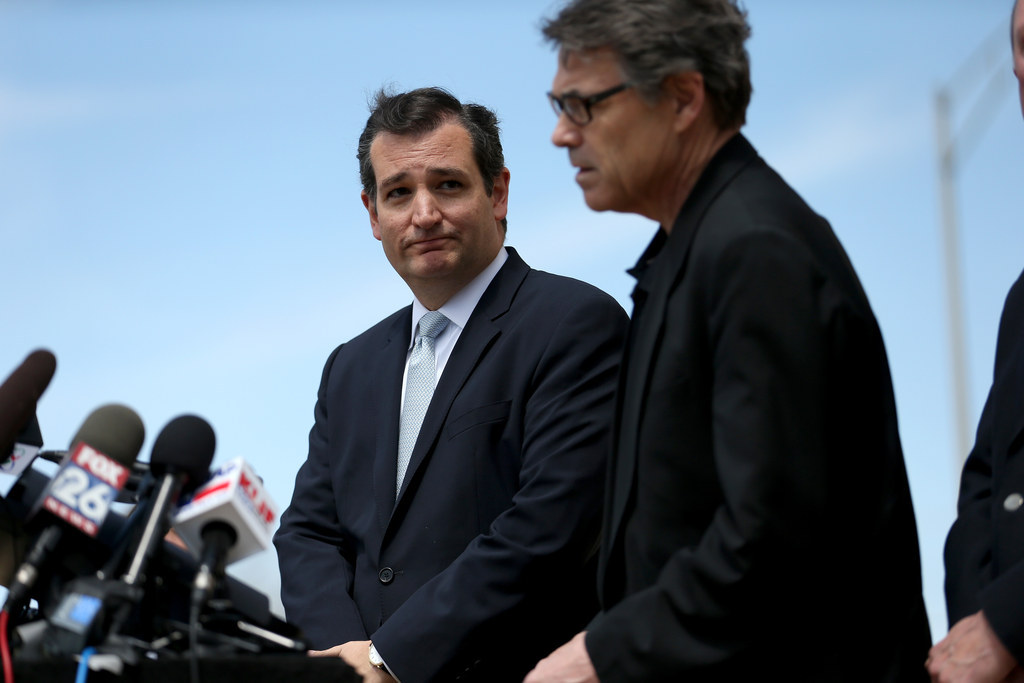 Former Texas Gov. Rick Perry made an appearance on Iowa radio on Wednesday, offering praise for fellow Texan Ted Cruz while comparing Marco Rubio's stance on immigration to Donald Trump's position on the Second Amendment.
In a wide-ranging assessment of the presidential campaign he exited in September, Perry said that he felt Ted Cruz had performed strongly in Tuesday night's debate, calling the Texas senator "wily" and "wise" in not "taking the bait" from CNN's moderators to bash his opponents. Perry also suggested that Cruz was the kind of candidate who could provide a "real plan" for the country.
"I think as the caucuses come into view, as they come into focus if you will, the Iowa voter is going to really require some specificity: 'Tell us how you're gonna get this economy back. Tell us how you're going to address with specificity,'" Perry told host Simon Conway. "And I think that's where the Ted Cruzes of the world are going to step forward and we're gonna see a leader with a real plan. So with those individuals that are still on that stage, I thought Senator Cruz was very wily. I think he was very wise in not taking the bait."
Perry said Rubio's continued support for a pathway to citizenship at some point for undocumented immigrants will not go over well in Iowa, calling the position a "third rail" of Republican primary politics.
"Marco Rubio is basically still open to a pathway to citizenship for those individuals who have come into this country illegally and I think I know how Iowa caucus goers pretty well, I think I know the primary voter in a Republican primary and this illegal immigration and those that would create a pathway to citizenship at this particular juncture even though Marco Rubio says it's way down the road, that is still the third rail of politics in the Republican primary and I think again he has a very, very difficult time of divorcing himself from the work that he did with that Gang of Eight," Perry said, referencing the Senate bill addressing immigration Rubio pushed for and then later abandoned.
"It's kind of like Donald Trump and the Second Amendment," Perry continued. "I mean, are you gonna trust someone who said they're basically for a pathway to citizenship relative to Marco Rubio or are you gonna trust someone who said that they're for an assault weapons ban? I mean, again, consistency of your positions—whether you're Donald Trump, whether you're Marco Rubio—and that's one of the things I will say in Senator Cruz's defense, that he has been a very, very consistent individual, day in and day out. He's very disciplined."
In the interview, Perry also reiterated many of the criticisms of Trump he made when he was still in the race and the two were clashing.
Perry said that Trump had reversed his support for single-payer healthcare and an assault weapons ban, and that the Republican front-runner had also reversed his opposition to "politically inflamed rhetoric against Muslims."
"This is an individual who six months ago said that anyone who used politically inflamed rhetoric against Muslims should be—that individual should be held suspect—and then within the last 10 days calling for a ban on Muslims," Perry argued. "Consistency is a very, very important thing for a leader of the free world and I have not seen that consistency out of him. I don't know what he believes in to be real honest with you. I think he believes in Donald Trump and promoting Donald Trump and Donald Trump's brand."
Perry, who found himself relegated to the undercard debate during his run, also lamented the role of the national media in the Republican primary, saying that it had damaged his campaign, along with those of other governors and former governors Bobby Jindal, Scott Walker, and Jeb Bush, whose campaign he said was "on life support."
"Simon, I'm biased, but when you had four governors who had very successful records in their home states, and I'm talking about Bobby Jindal, Scott Walker, or myself who have now dropped out of the presidential—and Jeb appears to be just on life support from the standpoint of the poll numbers—and those four governors had very good success in their states," he said.
Contending that Rand Paul "shouldn't have been on the main stage" on Tuesday, Perry further said he thought the four people "still alive in this process" were Trump, Cruz, Rubio, and Ben Carson, "barring some massive blowing up, if you will, of the electorate."
The former governor concluded his analysis with a reference to the Grateful Dead.
"Again, this is a strange and bizarre—what was the old Grateful Dead? What a long, strange trip it's been, comes to mind," Perry said. "This has been a long and strange trip in a Republican primary and who knows what may come out of it in the final analysis."