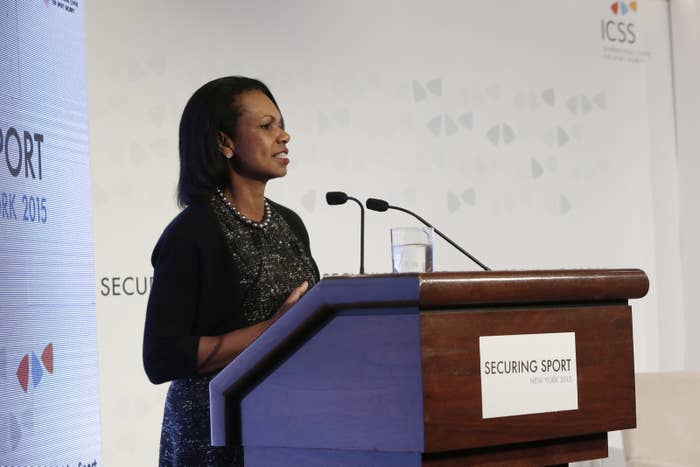 Condoleezza Rice privately criticized Bush administration Secretary of Defense Donald Rumsfeld to Colin Powell last year in an exchange about the handling of the Iraq War, according to Powell's personal emails seen by BuzzFeed News.
The two former secretaries of state corresponded briefly after journalist Bob Woodward disputed Rumsfeld's argument that he had always been skeptical of creating a democracy in Iraq.
The website DCLeaks.com — which has reported, but not confirmed, ties to Russian intelligence services — obtained Powell's emails. It may be the latest example of a Russian entity potentially trying to influence the US presidential election — in July, the FBI said it believed Russia was behind the hack of the Democratic National Committee's internal emails right before the party's convention.
Powell initiated the 2015 exchange by emailing Rice, who was the national security adviser at the time of the Iraq invasion, with a link to Woodward's comments.
"First, we didn't invade Iraq to bring democracy — but once we overthrew Saddam, we had a view of what should follow," Rice responded. "If Don and the Pentagon had done their job (after claiming the rights to lead post-war rebuilding—things might have turned out differently)."
"Don should just stop talking," she added. "He puts his foot in his mouth every time."
Powell replied by seconding Rice's critique, saying "the boys in the band were brain dead."
"Doug and Paul claims they had a plan (turn Iraq and our Army over to Chalibi) and leave," Powell wrote, appearing to reference Bush administration officials Doug Feith, Paul Wolfowitz, and the late Iraqi politician Ahmed Chalabi, who died last year.
"43 knew what had to be done," Powell continued, referring to President George W. Bush, "specifically rejected the Chalibi crowd and as you say the boys in the band were brain dead."
Powell did not immediately respond to a request for comment. Rice's chief of staff, Georgia Godfrey, emailed to say there wasn't much news in the exchange that Rice hadn't already said.
"This is all stuff that she actually covered in her memoir, No Higher Honor. Not really anything new here so there's not much to comment on. Just two friends discussing the past."